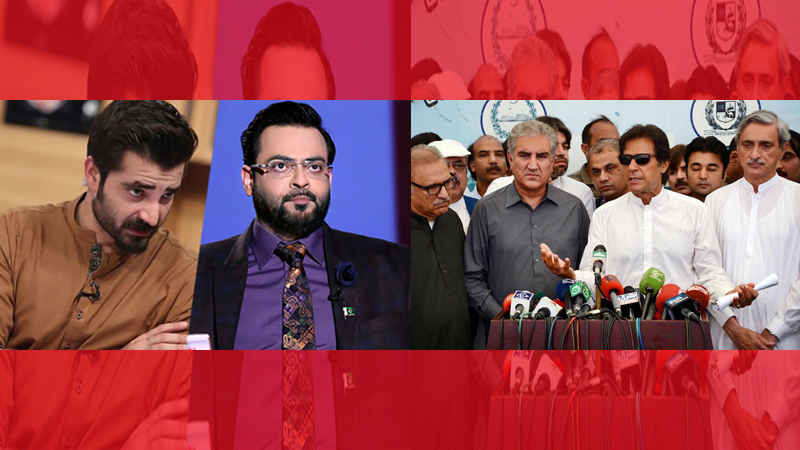 PTI leaders are now having a public spat! Yes, you heard it right! Just before the elections, internal rifts and fractures in PTI have become more visible than ever before, all owing to the quarrelsome party leaders who don't seem in a mood to settle things peacefully any time soon.
With Shah Mehmood Qureshi and Jahangir Tareen taking digs at each other during press meets and Hamza Ali Abbasi and Aamir Liaquat Husain taking their brawl to Twitter, PTI seems to be in a neck-deep mess as mudslinging takes the center stage.
Erratic men passing ludicrous comments in the heat of the moment like kids has left everyone shocked.
Read: Hamza Ali Abbasi Once Again Defended IK & Pakistanis Are Not Having It!
Let's walk you through the whole fiasco!
Shah Mehmood Qureshi vs. Jahangir Tareen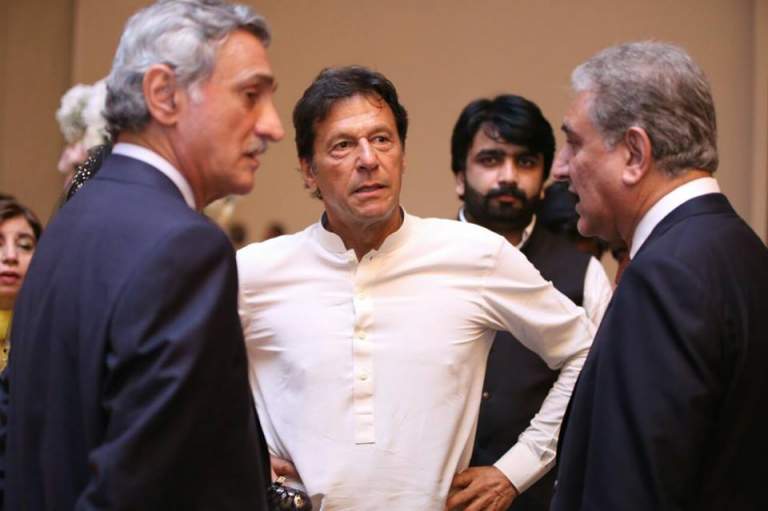 A few days ago while talking to the press, Shah Mehmood Qureshi was asked about his differences with Jahangir Tareen, another PTI stalwart. Qureshi initially denied the rumors but when provoked again, he took a jab at Tareen, belittling the latter for being disqualified to run in the elections.
Here, have a look!
https://youtu.be/Wt3fdw_ZhD4
Jahangir Tareen reacted to the insulting remarks by calling out Shah Mehmood Qureshi angrily in front of the media. He asked Qureshi to resolve the issue of allocating party tickets first and maintained that he would remain in the game as a PTI worker.
Read: And The Award For The Worst Chapter Names Goes To…REHAM KHAN!
Obviously, when Imran Khan was asked about the public exchange of barbs among the key party leaders, Khan condemned the immature behavior but at the same time he described such squabbling as something completely normal in political parties.
Khan couldn't seem less bothered about the dispute and we've no idea why!
https://twitter.com/bilalnasir713/status/1010612947012456456
Hamza Ali Abbasi vs. Aamir Liaquat Husain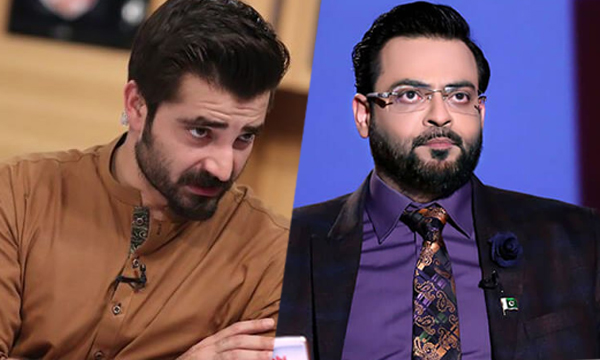 It's virtually impossible not to mention Hamza Ali Abbasi while discussing PTI and the case here is no different.
On the 22nd June, 2018 Hamza sent out a tweet about the protection of minorities under Islamic law.
Read: PTI Nominated Orya Maqbool Jan As Caretaker CM Punjab & Pakistanis Are Not Having It 
Interesting thought: In Messaq e Medina, Ummah is referred to Muslim majority of Medina & the Jews & Christian minority of Medina, all equal in brotherhood. It doesn't take a scholar to realise that the only ideology that can keep Pakistan together & protect minorities is ISLAM.

— Hamza Ali Abbasi (@iamhamzaabbasi) June 22, 2018
Soon, someone replied to the tweet with a comment that was enough to spark a fire.
https://twitter.com/_f_a_l_s_a_f_a_/status/1009988833557897216
Hamza Ali Abbasi responded to the tweet with a hadith and the next thing we know, Aamir Liaquat was spitting out lava on the micro-blogging website.
Don't quote any Hadith and don't play with Hadith. You are disgusting face of the channel, and a drug addict. It is better you stick to your day job – 'ACTING' otherwise I will also tell what your beliefs are and what you preach. Get off my mentions now.

— Aamir Liaquat Husain (@AamirLiaquat) June 22, 2018
Suddenly, Mehr Tarar felt the need to meddle and school the boys but Aamir Liaquat was not having it!
Does Allah approve what Hamza was doing here with me? Imposing Hadith on me is ok?! I didnot start this. Please explain him first what Gheebat and backbiting is. Anyway I am not going to prolong this either… take care.

— Aamir Liaquat Husain (@AamirLiaquat) June 23, 2018
For a party which is already struggling with ticket issues and internal dissent that has brought many party workers on the roads, such childish behavior by the most prominent faces of PTI is only making matters worse.
Read: Amir Liaquat Joined PTI And MANY Party Supporters Are "Resigning" On Twitter
As other contemporaries prepare for the big showdown, PTI is stuck in a petty tug of war where everyone is acting silly and compromising party interests for the sake of settling their personal scores.
We have clearly no idea why the PTI members have become thirsty for each others blood when the elections are so near and thus, this is the most WHAT-IS-GOING-ON(??!!) moment of the year 2018!
Read: Twitter In Pakistan After SC Dismisses Disqualification Plea Against Sheikh Rasheed!