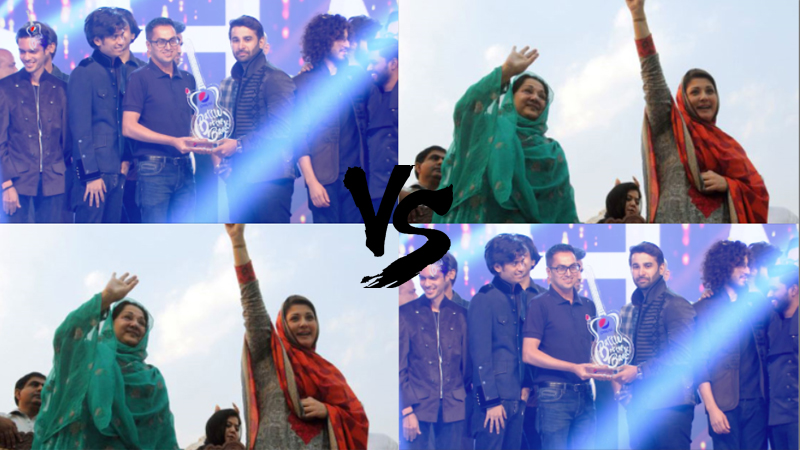 On Sunday, it seemed, half of Pakistan was invested in the NA120 by-election while the other half was anxious to find out who won Pepsi Battle of the Bands.
Also Read: A Look at the Journey of Kashmir on Pepsi Battle of the Bands Before B.O.B's Finale
Intrigued by this phenomenon, where Pakistanis exhibited unprecedented frenzy for two diametrically opposite "type of elections," we thought about asking you guys which result you loved more.
So, we started a Twitter poll yesterday asking, "#NA120 vs #PepsiBattleOfTheBands – What won more love? #Pakistan."
Pepsi Battle of the Bands was the front runner from the moment voting commenced. The poll closed only a few minutes ago and as per your votes, these are the results:

So there you have it! 80% of the voters opted for Pepsi Battle of the Bands while only 20% for the by-elections in NA120. It seems like our voters were more excited about the return of the bands than the return of a Sharif in the Parliament.
Also Read: When Atif Aslam Pulled an Anu Malik!
Of course this poll cannot be considered a scientific reflection of Pakistan's views but we sure had fun watching you guys vote.
On our part, we're just happy that music is returning to Pakistan.
This Twitterati gave the perfect words to our feelings:
Only result/win worth waiting for – #Kashmir wins on #PepsiBattleOfTheBands. When #MusicWins and #TheBandsAreBack you know it's a good day. https://t.co/i7SR81ykZq

— Rashna Abdi (@rsabdi) September 17, 2017
Great day Rashna, great day indeed! More power to music in Pakistan!