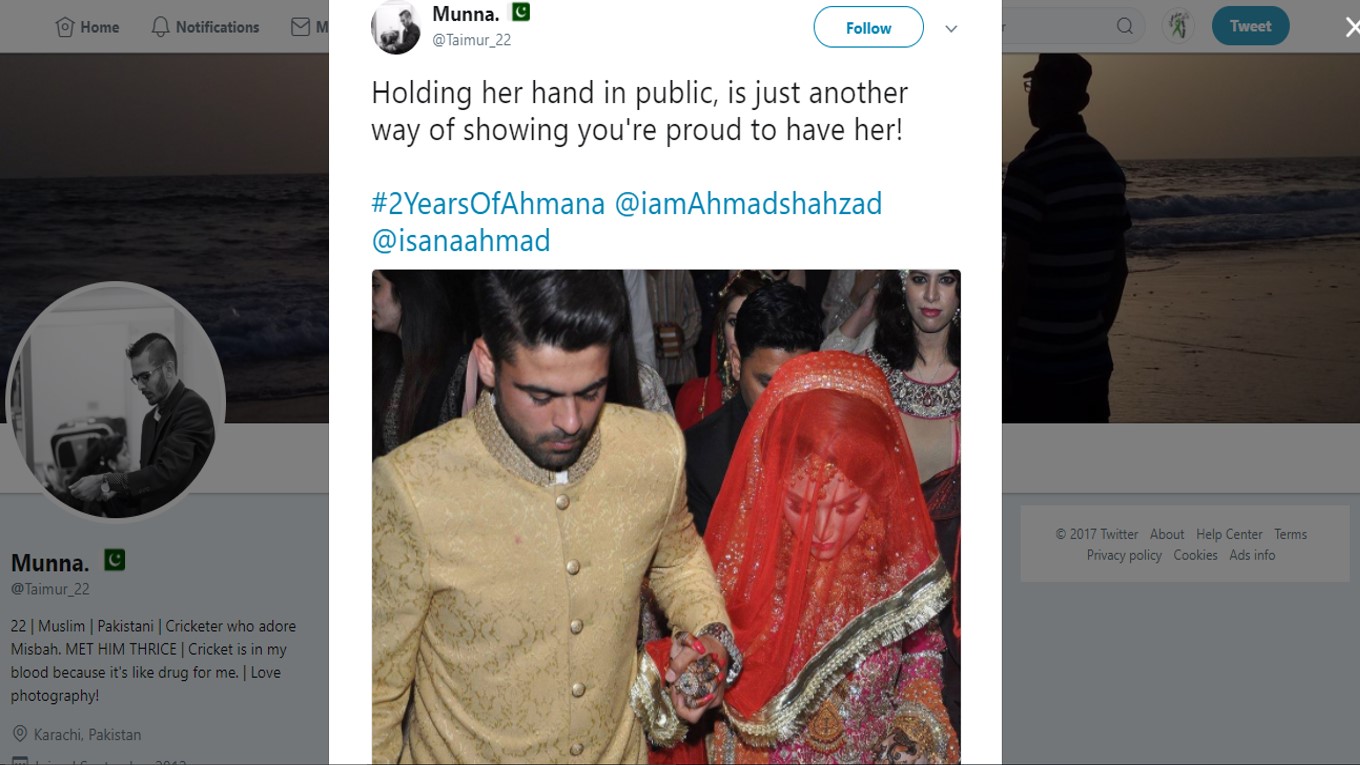 In a country where Twitter trends are almost always hijacked by political parties, it's refreshing to see something non-political trend.
So, when we saw #2YearsOfAhmana among the top 10 trends, we were most pleasantly surprised.
You see, today is cricketer Ahmad Shahzad's wedding anniversary to Sane Ahmad and Twitter is going overboard with its wishes and love for the couple.
Also Read: Brothers Who Influenced Pakistan Cricket
More than 6,000 tweets with the hashtag #2YearsOfAhmana have been sent out since 11:45 p.m. last night and clearly the happy couple is enjoying all the love that they're receiving from their fans.
Also Read: Independence Cup 2017: These Hilarious Reactions are Cracking Us Up!
So crazy is the fanfare around this power couple that people are not merely wishing but coming up with photo collages, videos and other creative ways to show their love.
It all started with this tweet from Ahmad Shahzad's fanclub:
Be ready guys. We've to make this trend #2YearsOfAhmana top like last year. https://t.co/DPRDWU4si8

— Sunia Shahzad🇵🇰 (@AHMADBIGGESTFAN) September 18, 2017
They followed up with this wondrous collage.
After seeing 2 of u, I don't think I've met a single couple who's as perfect as for each other as u 2. Stay together & happy #2YearsOfAhmana pic.twitter.com/W2JADabJDL

— Sunia Shahzad🇵🇰 (@AHMADBIGGESTFAN) September 18, 2017
Phew! That's a lot of hard work! I mean, I didn't even know so many wedding pictures of Ahmad Shahzad were available on Google!
The call by Ahmad Shahzad Fanclub was answered enthusiastically by the fans of the cricketer with all sorts of lovely messages.
There were of course prayers:
https://twitter.com/AhmadsJabraFan/status/909990298314530819
There were mushy tweets…
#2YearsOfAhmana
Happy Wedding Anniversary to a most beautiful and lovely couple
Ahmad & Sana 💑😘@iamAhmadshahzad @isanaahmad pic.twitter.com/RhcuQI5xaQ

— Bili🐈 (@Guhlabo) September 18, 2017
There were deep interpretations of the couple's wedding photos:
https://twitter.com/Taimur_22/status/910046894956654593
There was cake!
The Cakes from 1st & 2nd Marriage Anniversary of Ahmad & Sana ! 😍🎂😍#2YearsOfAhmana ❤💛 pic.twitter.com/9LPytjZ8Ic

— Uswah (@iUswah_19) September 18, 2017
There was also some serious marital advise for the couple.
A successful married life requires falling in love many times, but always with the same person.👄👅💄#2YearsOfAhmana pic.twitter.com/wCvq2zHZR1

— حفصہ احمد❤️ (@haffoo_aw) September 18, 2017
And this guy went a notch further and made a video to wish the happy couple. So impressed was Sana Ahmad with this gesture, that she responded with a huge "Thank you!"
This video is super cute and thank u soo much for ur abundant love and support .

— Sana Ahmad (@isanaahmad) September 19, 2017
The fans are undoubtedly proud of the success they've achieved with making #2YearsOfAhmana trend, so obviously they are also congratulating each other.
Yes
We shahzadians are once again successful to make our trend on top of the list
This is for both of u😘#2YearsOfAhmana #FansAreInHeart pic.twitter.com/lxSt69KBT5

— Ahmad KHI Fc (@Asmmaaa19) September 18, 2017
Clearly, Ahmad Shahzad has a HUGE fan following and we're loving how they're making it known!
Lots of great wishes from Team Bolo Jawan to the young couple!