At present, 22.8 million or 44% of Pakistan's children of school-going age (i.e. 5 – 16 years) are out of schools. The majority of these out-of-school children are girls. An acute lack of secondary schools serves as one of the biggest contributors to this dismal state of affairs.
For instance, secondary schools in Pakistan (i.e. 29,004) are disproportionately lower compared to the number of primary schools (i.e.119,149). This means that for every 100 primary schools, there are only 24 secondary schools.
This means that the system's overall capacity at secondary level is one-fourth times constrained compared to the number of primary schools. This in turn indicates that if all the students are willing to continue their education after completing primary, majority of them will simply be compelled to discontinue their education because of the capacity constraint of the system.

When analyzed from the perspective of the urban-rural divide, for every 100 primary schools there are 48 secondary schools in the urban areas and only 22 in the rural localities of Pakistan.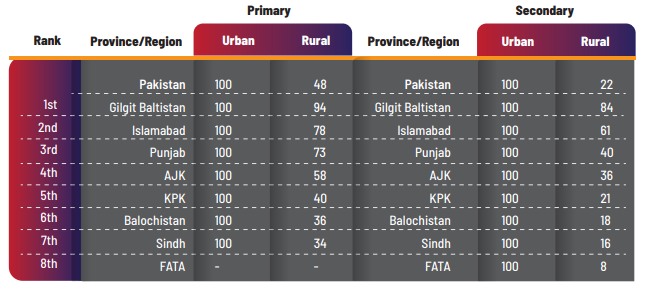 Also Read: Millions Of Pakistani Girls Might Not Return To Schools After The Pandemic
As the overall national average shows, the situation across the country is poor. However,
the bottleneck in Sindh is worse with only 10 secondary schools for every 100 primary
schools.
For every 100 primary schools in the urban areas of Sindh there are 34 secondary schools, whereas there are merely 8 secondary schools for every 100 primary schools in the rural areas.
This dismal figure also explains why the overall number of OOS girls is more than twice the present level of secondary enrollment in the country.
Also Read: Sajal Ali Demands An Increase In The Education Budget To Prevent School Drop-Outs After The Coronavirus Emergency
The number of secondary schools in Pakistan is highly disproportionate to primary schools which results in difficulty in access to secondary education.
A system of secondary schools, which is one-fourth the size of primary schools can simply not accommodate all the primary graduates even if, 100% of the primary graduates are willing and otherwise able to transition.
Also Read: Children Are Returning #BackToSchool Without Drinking Water, Toilets & Electricity Amid The Pandemic
In order to fulfill the state's constitutional commitment under Article 25-A the number of
secondary schools need an increase across the country. However, the governments of
Sindh, KP and Balochistan will have to allocate a major chunk of their development spending to construct more secondary schools or upgrade existing schools so children in those provinces have a level playing field when graduating from primary to the secondary level.
Have something else to add to this story? Share in the comments below!