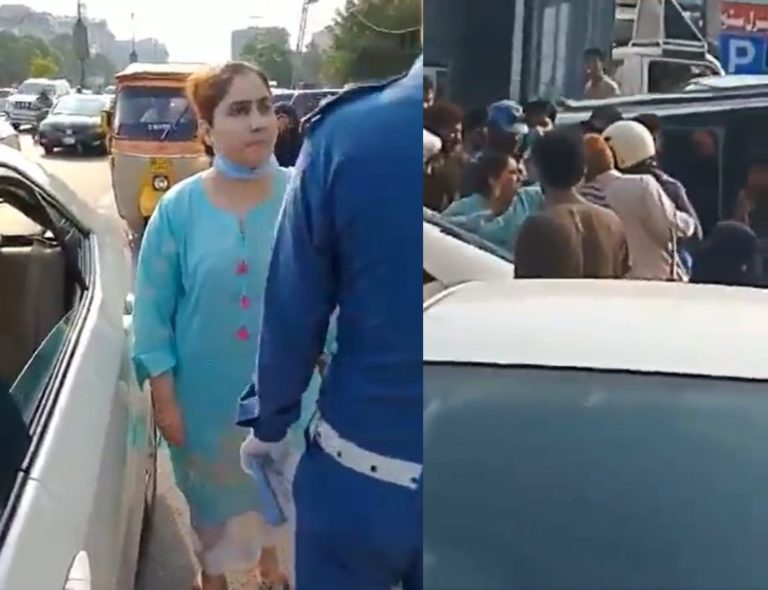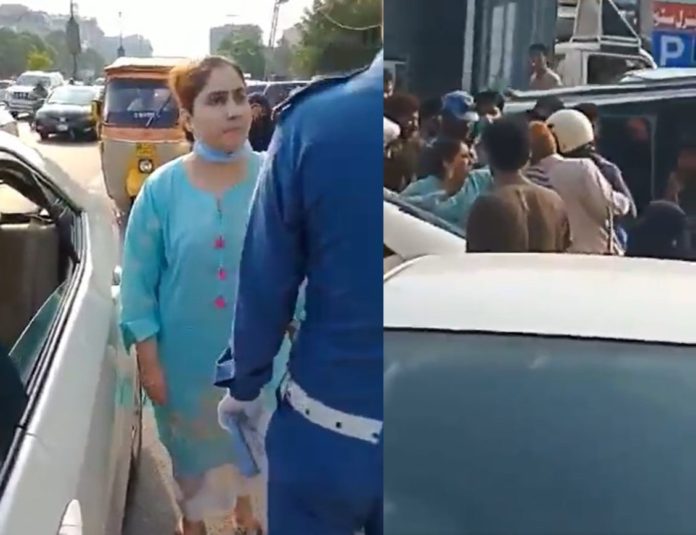 It was hardly a couple of months ago that a video of a woman claiming to be the wife of a Colonel while misbehaving with policemen on Hazara Motorway Express went viral. And now, another video has gone viral in which a woman in Lahore is seen misbehaving with a traffic warden and threatening him with suspension.
Read: 13 Funny Memes After Video Of The #ColonelKiBiwi Went Viral
As per police, on 7th July at Liberty Market, Lahore the traffic warden on duty asked the driver of an incorrectly parked car to move to an appropriate parking spot. The wrong parking was causing congestion in the marketplace.
The woman, sitting in the backseat of the problematic vehicle apparently took offense to the traffic warden's request and launched into a distasteful tirade.
Now verbal skirmishes between car owners and the traffic police are commonplace but what followed the verbal spat was downright physical violence!
The woman not just threatened and verbally abused the policeman but also – and this will shock you – slapped him! She then went on to grab the poor man by his uniform, breaking his shirt's button.
The video first caught attention when it was posted from the Twitter handle of SP Atif Nazir.
But the clip SP Nazir posted was not the only one doing rounds on social media.
A second video was posted under the Superintendent's tweet showing the woman physically assaulting the traffic warden.
If only education could also teach people some tehzeeb.
Forget coronavirus and social distancing…is assaulting traffic police the new normal in Pakistan?
Read: People Demand Action As Video Of A Man Pushing & Shoving A Police Constable In Islamabad Goes Viral
FIR has been lodged against the woman in question for obstruction of justice and assaulting an on-duty police officer.
What are your thoughts about this woman in Lahore misbehaving and assaulting the traffic warden? Share your thoughts in the comments below.