Journalist and television producer, Ali Salman Alvi made headlines nationwide after being accused and consequently arrested for the murder of his wife Sadaf Zahra.
Read: Journalist Ali Salman Alvi Arrested Over Charges Of Murdering Wife, Sadaf Zahra
What came as a shock to many was the stark contradiction between Alvi's Twitter persona and his dark personal reality. Online, Alvi was known as a stanch feminist and a supporter of progressive voices. However, as per revelations made by Sadaf's friend in a heartbreaking Twitter thread, not only was the journalist a wife-beater but also ran a blackmailing ring that targeted young women online.
The news sent shock-waves across social media with "online personas are not real," becoming the mantra of the day.
Unwittingly targeted in this online frenzy were two influentials: television anchor, Asma Shirazi and the President of Pakistan himself, Arif Alvi.
Since Salman Alvi was the producer of Asma Shirazi's show, Faisla Aap Ka it was only expected that the angry online mob would eventually turn its attention towards her.
Shirazi was however quick to make a statement expressing shock and disbelief. She also informed her followers that Aaj TV had fired the accused producer.
So far, however, Shirazi's statement has done little to quell people's misgivings about her.
And while one can still establish a connection and understand – if not entirely agree with – the many qualms people have against Asma Shirazi right now, the case of President Arif Alvi is an entirely different story.
It all started with a comment under the thread put out by Sadaf's friend.
Probably putting two and two together based on the TV producer's surname, a Twitter user wrote, "He's the son of President Alvi."
Most people were actually quick to correct the man.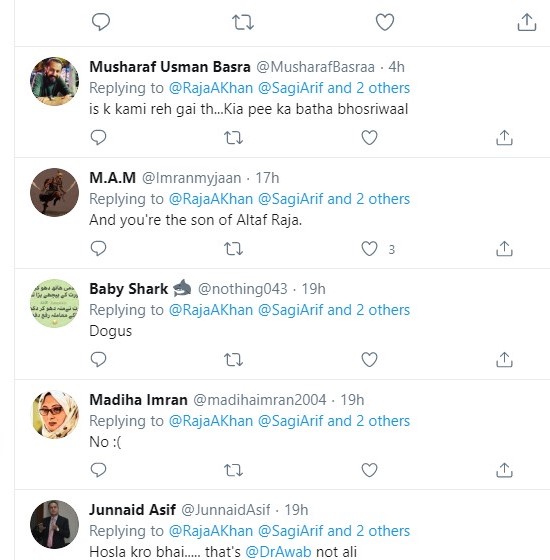 But Awab Alvi, the actual son of President Arif Alvi did not seem in the mood to take any risks and immediately put out a disclaimer.
"We have no affiliation or linkage with Ali Salman Alvi. Some people think having a last name "Alvi" means he is the Son of the President – NOT," wrote Awab Alvi.
Apparently, this is not the first time the President's family has been linked to a bête noire.
As informed by ASP Beenish Uzair, Ali Salman Alvi is now in custody.
Post-mortem and forensics of the dead body have been completed to ascertain the cause of death.
Have something to add? Share your views in the comments below.