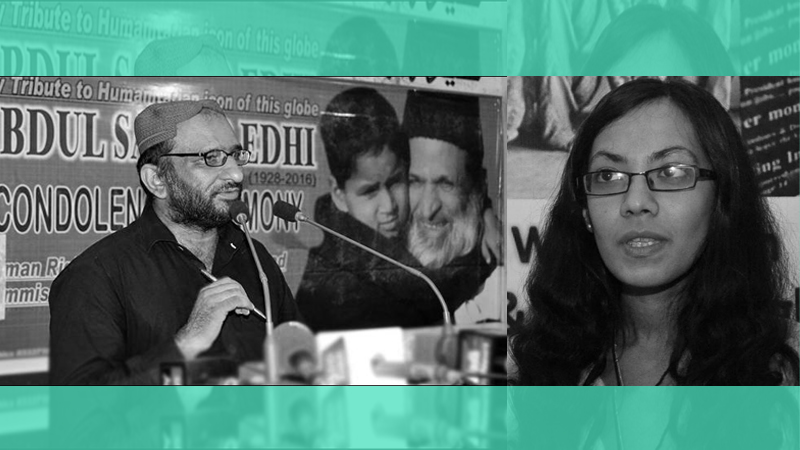 The last two years have seen many powerful men fall from grace as a result of the testimonies of brave women who have come forward to flag them as sexual harassers.
While the west has seen at least a few hundred men being named and shamed for sexual misconduct, South Asia has woken up to the #MeToo movement only recently.
The year had begun with such names in Pakistan as musician and film star, Ali Zafar and Patari CEO Khalid Bajwa being called out by various women. Only a few days ago, Twitter chatter pointed fingers towards Youtuber and comedian Junaid Akram for unholy behaviour.
Read: Is Pakistani Youtuber Junaid Akram A Sexual Harasser?
While all these cases were shocking as they were, the most recent person to be named will leave Pakistan positively heartbroken.
This time it's Urooj Zia vs. Faisal Edhi 
Journalist Urooj Zia came forward late last evening with a thread on her Twitter handle in which she accused Faisal Edhi – son of  the beloved philanthropist, late Abdul Sattar Edhi – for sexually harassing her many years ago when she was merely in her early twenties.
Read: More Women Step Forward To Share How Sanskari Babu Ji Alok Nath
sending her unwelcome texts and demanding "friendship" in return for funds for the political party that she supported.
*takes a deep breathe*

Since this is all coming out, #MeToo too many times than I can count, but this one is about Faisal Edhi, Abdus Sattar Edhi's son – the guy heading the Edhi Foundation now.

It happened when I was very young (22 or 23 years old, I think.)

— Urooj Zia (@potaydur) October 10, 2018
Faisal Edhi denies the allegations…
Speaking to Pakistan Today, Faisal Edhi out-rightly denied the allegations stating that he didn't "…even know who the girl is."
In his statement Edhi further added that he might have refused funding for a political party at some point because of which his name was being maligned.
…But Pakistan is not in a forgiving mood
And while Faisal Edhi cannot recall harassing Urooj Zia, the overwhelming majority of Pakistanis who have read her story, believe her.
Shocked yes! But not surprised at the allegation on #FaisalEdhi
Most men in our society are raised with a sense of entitlement while women are told that's how it is.

But not anymore. Times have changed. Dear men! your #TimesUp

— م (@KharroosWayne) October 11, 2018
I know this woman for many years and not a big fan. Although it came as a shock to me and am still in disbelief, shaking but I can vow that Urooj is not lying. In solidarity with her. Wish it were not Faisal Edhi. Same feeling when the idols break. You are v strong Urooj. #MeToo https://t.co/MDFx1YSPff

— Noor e Maryam Kanwer (@nooremaryamk) October 10, 2018
Though I am blocked by the journo in subject, I would still support her right to speak up.#FaisalEdhi #MeToo https://t.co/WFJQzPKpDx

— Bano (@BanoBee) October 10, 2018
Unbelievable, Faisal Edhi not just any random Faisal

— Ali Faisal (@AliFaisalJ) October 10, 2018
Just imagine, if we have predators and harassers like #FaisalEdhi, what could be more worst? People who are on powerful positions can not do this anymore. And people, this is not a joke!!!

— Javeria Awan (@javerriaawan) October 10, 2018
The Guilt that Plagues the Survivors
Zia's tweets highlight the guilt that young girls are conditioned to feel when an offender makes an unwelcome advance. Very often when girls find themselves at the receiving end of sexual misconduct, they are taught to believe that it is them and not the offenders who are in the wrong.
Read: Bollywood's #MeToo Moment: From Nana Patekar To Kailash Kher, All The Big Names That Have Been Called Out Since Tanushree Dutta's Brave Stand!
This heartbreaking phenomenon resonates all through Urooj Zia's testimony as she recollects the confusion and guilt that she battled as 22-23 year old when Faisal Edhi made repeated inappropriate advances.
This is a developing story and we will continue to update it as and when more information is received.