Netizens are speculating that Prime Minister Imran Khan is apparently twinning with the guests he meets.
In his recent interview with Pyaray Afzal actor Hamza Ali Abbasi on Hum News Channel, the two were seen sporting the same colored Qameez Shalwar. This got the fans talking of how the Premier often dons outfits similar to the people he meets.
Unnis Bees ka Farq, but still the PM's coat matches with his suit!
We did some digging and found out that there has been an occasion in the past where the duo were seen clad in crisp white Shalwar Kameez, looking oh-so-regal!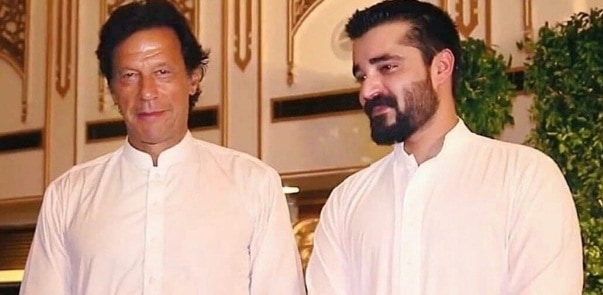 People are questioning if the Premier decides this beforehand with his guests. Is he also trying to follow the Twinning trend, hmm?
While social media users were at it they scavenged pictures from former Pakistan cricket team captain's meeting with Haier Ceo, Javed Afridi. The pictures are a telltale of how the two are wearing the exact same outfit!
Also Read: 7 Pictures From Sindhi Culture Day That Will Make Your Monday Brighter
What is this happening? One occasion after another, this cannot be a mere coincidence!
People are guessing, Imran Khan got insider knowledge on what the businessman will be wearing to the interview.
Fans are loving Imran Khan Twinning Outfits with Javed Afridi.
Also Read: If You Were Born In the 2000s You Probably Won't Recognize These Pakistani Music Videos
Keep guessing people, we might never know the answer to this.
Dibs on IK totally coordinating it with his guests. We cannot believe it to be a coincidence only
This is cute, TBH!
Let's see if the Premier himself or one of his guests take notice of this social media frenzy, and take time to unveil the curious case of twinning outfits.
What do you have to say about this? Write down in the comments below.