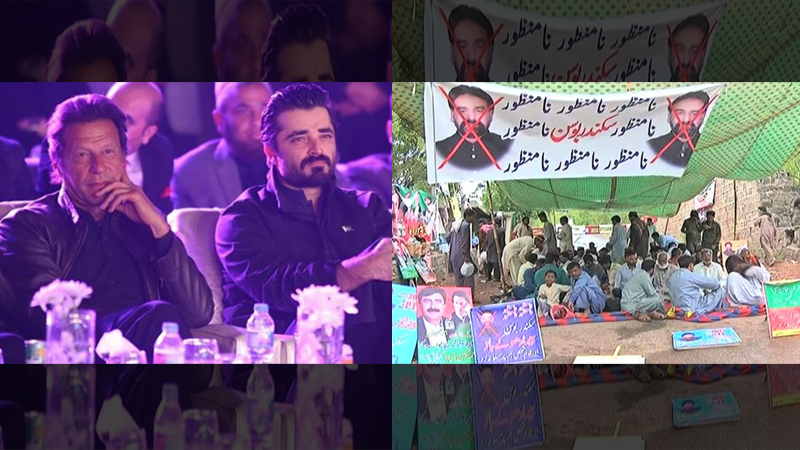 Only a month away from General Elections 2018 and all the political parties contesting for power are busy campaigning to bag votes. But the pressure seems to be getting on the nerves of some politicians. While PML-N continues its free fall in the abyss of embarrassment, thanks to (but not limited to) the Nawaz disqualification debacle and Jamal Khan's recent derogatory comments, PTI has once again managed a self-goal by depriving the loyal party workers of the party tickets in the coming run-up. Doing the obvious, Hamza Ali Abbasi once again defended IK & Pakistanis are not having it.
Read: And The Award For The Worst Chapter Names Goes To…REHAM KHAN!
It was just a day before yesterday when Zarrar Khuhro tweeted out this!
Don't worry…sooner or later hamza abbasi will say something that you can quote tweet for days.

— Zarrar Khuhro (@ZarrarKhuhro) June 20, 2018
Although, Hamza Ali Abbasi has not met these expectations as of yet (which is so not him), we have dug out his tweet from the past in which Imran Khan's Robin seems hell bent on justifying the party's decision of awarding tickets to the new members who are defectors from other parties, instead of the loyal party workers who have been supporting PTI since the beginning. Here, have a look!
Read: PTI Nominated Orya Maqbool Jan As Caretaker CM Punjab & Pakistanis Are Not Having It
Why is Imran Khan giving tickets to electables? For 23 yrs Imran Khan had non electables contesting in elections, what did my nation give him? 1 seat from Mianwali… Yes he wants power, because politics without power is useless, he needs power to change things for the better.

— Hamza Ali Abbasi (@iamhamzaabbasi) June 10, 2018
However, this time not even the PTI loyalists are buying the twisted logic presented by Hamza Ali Abbasi to defend the backfiring decision which reflects upon the opportunistic behavior of PTI, ready to compromise on its principles to win votes like any other political party in Pakistan.
Read: Amir Liaquat Joined PTI And MANY Party Supporters Are "Resigning" On Twitter
First, PTI supporters took to social media to respond to the senseless tweet.
How can a person eradicate power politics if he himself is doing power politics….
PTI is just selling old items in new packing…..

— Abdul Kabeer (@kabeerpir5) June 13, 2018
I"m a supporter of Imran Khan and always will be but he said that the tickets will be awarded to the youth but I don't think it happened. If I am wrong do guide me.

— Kyle Mills #Vote for Lana Parilla (@KyleDanielMills) June 22, 2018
If he is going to appoint ministers from lotas .. than i m sorry, he has lost his vision for nation

— Shehzad K. Bhatti (@ShehzadKBhatti1) June 19, 2018
And when no heed was paid to the ones with the grievances, the development led to an outcry among the party members, 700 of whom are now protesting against the decision outside Imran Khan's residence in Bani Gala.
The on-and-off-the-internet protests put up by PTI supporters are evident of the fact that the party has failed even its own supporters, let alone gaining the confidence of people outside its sphere of influence.
Read: Twitter In Pakistan After SC Dismisses Disqualification Plea Against Sheikh Rasheed!
Not only will the uproar damage PTI's vote bank near elections but will also weaken the very fabric of the party which is the reason behind whatever progress the party has made so far.
Most significantly, the promise to give a new and reformed Pakistan which lies at the heart of Pakistan Tehreek-e-Insaf's vision has suffered a severe blow as a result of this decision. There is no way change can be brought if the same corrupt politicians keep resuming power under different party banners, reason why even the staunch supporters of PTI seem less confident this time.
Read: Farooq Bandial – A Rapist Publicly Shamed At Last!
It's high time that blind followers like Hamza Ali Abbasi start reflecting on both the political and moral course of PTI and start calling a spade a spade! Otherwise, such blatant disrespect for party loyalists will only exacerbate the situation with PTI subsequently losing its mandate!
Read: The Misogynistic Face Of Pakistani Politics