The Federal Government employees from Grade 1-16 staged a protest in Islamabad to demand a 40% raise in their salaries due to the rising inflation. The protesters announced a march towards the Secretariat after their leader Rehman Bajwa and nine other members were arrested on Wednesday.
Read More: Here's Why Law Minister Sultan Muhammad Khan Resigned Following PM's Orders After Horse-Trading Video Went Viral
In order to stop the government employees from reaching the Parliament, capital police had to resort to tear gas shelling and firing rubber bullets at the protesters. This is when the protests got violent. In retaliation to the shelling, the government employees pelted the police with stones. These back and forth attacks turned the capital into a battle ground.
Read More: Islamabad Lawyers Protests Continue: Athar Minallah & Hamza Shafqaat's Attempts Fall On Deaf Ears
As the scenes got wild between the two parties, traffic remained jammed for hours on the Srinigar highway. People were stuck in long queues for long as the traffic police diverted them to alternative pathways.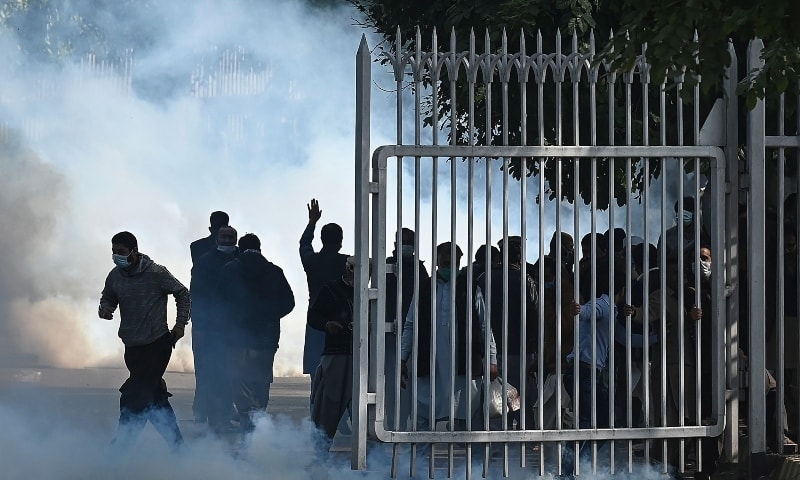 Talks Of Negotiation
As the government employees and police created ruckus on the Red Zone of Islamabad, a government team was formed to negotiate terms with the protesting party. The team comprising of Interior Minister Sheikh Rashid, Defence Minister Pervez Khattak and Minister of State for Parliamentary Affairs Ali Muhammad Khan called the Premier for settlement talks.
After the talks, Mr. Sheikh Rasheed Ahmed informed on the microblogging site that following successful negotiation with the protesting employees, the government has assured them of a 20% increase in their salaries. He also assured of the release of employees who were arrested during the clashes.
Several news reports suggest that even though the demand of increase in salaries has been met, the Cabinet needs to approve this proposal first.
Have something else to add to this? Write in the comments.