Governor Sindh, Imran Ismail has come up with a clarification after a video of his dog enjoying VIP protocol went viral. The video took internet by the storm and netizens were quick to call Ismail out for that.
Also READ: This Is Why Fawad Chaudhry Slapped Mubasher Lucman At A Wedding Ceremony!
In the video Governor Sindh's dog can be seen lone riding in the four-wheeler government owned car. Police van can also be seen riding along with it. Social media users condemned the act and called him out for wasting government's resources.
Responding to the hate, Imran Ismail issued a clarification saying that the dog was indeed not alone. His family was riding alongside the German Shepherd, but they had to shift back in the car to avoid being filmed. He even expressed his agitation on being filmed without consent.
Ismail went on to say that the police van was there to protect his family and wasn't there for the dog's protocol. He even commented on how it was so silly to record the moment.
Governor Sindh called out PPP minister Taimur Talpur, who shared the video on social media. He said,
"The motive of our government is to bring change in Pakistan and we will accomplish our targets," he added.
Also READ: Fawad Chaudhry & Yasmin Rashid Lock Horns Over Nawaz Sharif Medical Report
Even Fawad Chaudhry, Minister for Science and Technology came out in support of Imran Ismail. He slammed Talpur for compromising the privacy of someone else's family.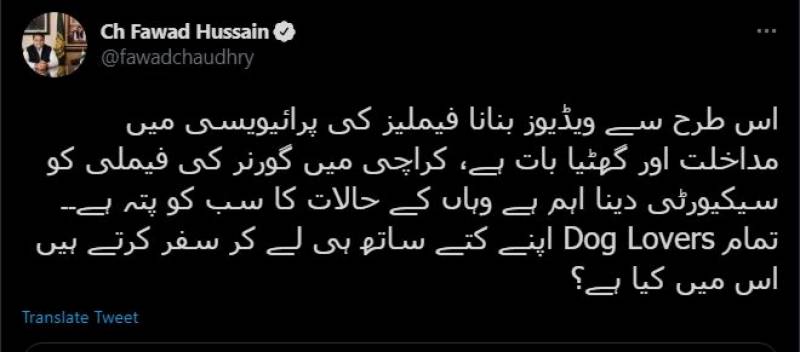 Have something else to add to this? Share in the comments