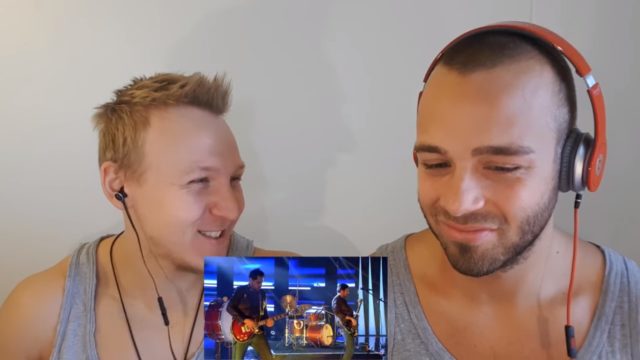 Remember how Call had taken over the rock music scene in Pakistan at the beginning of the decade? But then the security situation took a toll on the concerts and music production suddenly ceased.
Now that things are taking a turn for the good, it's great to see Pakistani music coming back to life and with it all the great musicians that we had missed oh-so-much!
Also Read: A Look at the Journey of Kashmir on Pepsi Battle of the Bands Before B.O.B's Finale
It's because we hadn't seen Call in its element in a while that its surprise appearance on Pepsi Battle of the Bands last week made us jump out of our skins!
Call came. Call saw and Call conquered!
The video of their performance has been accumulating unprecedented views. All this euphoria meant that it was only a matter of time before Pakistan's favourite non-desi YouTubers, Robin and Jesper would be overwhelmed with requests to react on Call's blazing act on the stage of Pepsi Battle of the Bands.
Sure enough, they were receiving requests by the minute and almost a week into the clamor, they finally posted a video on their YouTube channel reacting on Call's Jilawatan.
From the moment the performance began, it was obvious that the two Swedish guys were hooked but the real fun began when Junaid Khan began singing!
Also Read: Swedish Youtubers, Robin & Jesper React to the Trailer of Saba Qamar's Baaghi
All through the video, Robin and Jesper looked in awe of the energy that Call brought to the stage. In their own words, the performance was a hair raiser and that their minds were blown! In fact Robin wants Jilawatan on his playlist to listen to it on repeat. How cool is that!
Since, Pepsi Battle of the Bands features live stage performances, its videos aren't accompanied with subtitles. So, as much as they loved the performance, they wanted to know what Jilawatan meant – because of course that's one word that stands out throughout the song more than any other.
Also Watch: Jasim and the Pindi Boys Were at Bolo Jawan Studios – Part II
For your benefit Robin and Jesper, "Jilawatan" means to be an "Exile" in Urdu.
But why stop with translating just one word. We loved your reaction so much that we tried our hands on translating the lyrics for you guys. (Urdu speaking readers are welcome to correct our translation where they feel we faltered).
Here goes nothing!
My soul has decided,
My heart yearns only for this,
No matter where my mortal body dies,
Buried in my own land will I find bliss.
O my beloved land, Safeguard my promise for…
I'm an Exile
I'm an Exile
I'm an Exile
I'm an Exile
I've promised myself,
I have sworn to the ideal,
Till my last breath,
Prosperity in my land I will make real
O beloved land,
Nurse my wounded soul for…
I'm an Exile
I'm an Exile
I'm an Exile
I'm an Exile
For all the Pepsi Battle of the Bands fans out there, the finale is tomorrow and we can't wait to find out whether it's Badnaam or Kashmir that'll take home the trophy. Keep watching this space for more B.O.B updates.