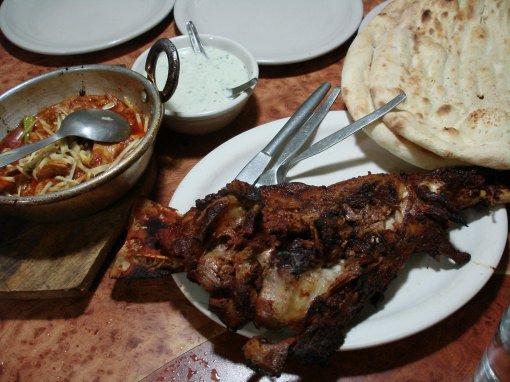 Karachi has always ranked among those Pakistani cities that serve as a hub for cuisines of various cultures and geographical regions. From Irani Chullo Kebabs, to Delhi-styled Qorma, to an assortment of various kinds of Biryanis and spicy BBQ items – Karachi has it all! Gulab Jamun, traditional Kheer and semolina (suji) halwa are also worth a mention among the list of melt-in-your-mouth signature desserts of the city.
The old town of Karachi is known for its delicious food joints and Kaiser Restaurant is among the pioneers. It has been in the food industry for an impressive 59 years and has maintained the quality of its food over the decades. Even though many new food joints have opened up in the city but no new eatery can take over the charm and quality of Kaiser Restaurant.
The diner is located at the congested Lighthouse, Bandar Road, where every Sunday a flee market is set-up. During weekdays, traffic is one of the biggest hindrances that one has to face in order to devour the delicious food being offered at Kaiser Restaurant.
Placed in the heart of the city, Kaiser Restaurant is open from lunch to dinner. People from nearby offices drop in to enjoy traditional desi meals. Some of its specialties include, Palak Gosht (spinach with meat), Daal Maash (kidney lentil), Chicken Ginger, Chicken Karahai, and  the classic Mutton Leg. The insanely famous and rather expensive Mutton Leg is marinated in a perfect blend of spices and char-grilled to perfection; all of these dishes are served with hot fluffy naans (flat leavened bread) and a plate of salad and Raita  (yogurt dip).
The restaurant does not boast a lavish interior, but this simple set-up is credited with attracting many famous people such as former Prime Minister Benazir Bhutto, former Presidents Asif Ali Zardari and General Pervez Musharraf as well as General Zia –ul –Haq.
During my last outing at Kaiser Restaurant with my friends, we ordered the famous Mutton Leg, Daal Maash and Palak Gosht, which was accompanied by naans and Raita. The service was prompt and within 20 minutes the food was served piping hot. Daal Maash and Palak Gosht were served in small karahis garnished with fresh coriander adding a touch of freshness to the tantalizing flavors. The star dish was perfectly marinated and char-grilled; the taste was well balanced and the meat was succulent. For someone who doesn't eat spicy food, the yogurt dip i.e. Raita perfectly complimented the meal. The staff was courteous and paid close attention to see if we needed anything else. After the meal, upon the recommendation of the staff, we tried the kulfi and egg custard which were hands-down delicious!
The prices of these dishes are slightly on the high side, but the scrumptious food makes up for that.
Kaiser Restaurant is highly recommended to all the foodies who don't mind braving Karachi's chaotic traffic to enjoy a meal they'll savour till the very last mouthful!