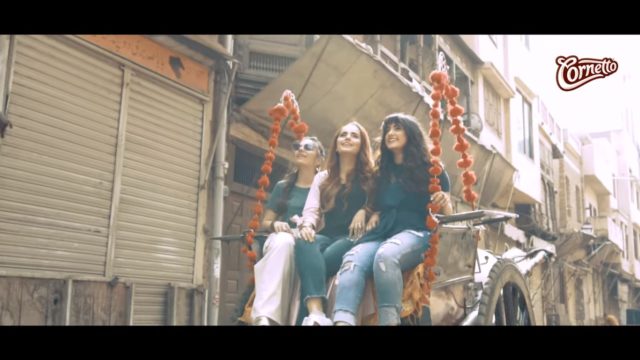 Cornetto Pop Rock is back with its second season. The show announced its arrival with the release of Momina Mustehsan's single, Jee Liya (i.e. I've Lived).
The song begins with a vanity card from the singer herself. It reads and we quote:
"Jee Liya, is a song inspired by our stories of survival. I always use music as a medium to inspire people, to keep themselves going – strong and brave even in the light of negativity around them. If you have ever fallen down, lost hope, gathered yourself up, and bravely moved on, Jee Liya is a song that will connect with you."
Very honestly, the very title of the song had us excited but then we read the vanity card and we knew this would be a great single!
Also Read: A Look at the Journey of Kashmir on Pepsi Battle of the Bands Before B.O.B's Finale
From the simple yet inspired lyrics to the easy-going composition to the fun-filled video, Jee Liya is a feel good song all the way.
It speaks of life's little pleasures and gives a sense of strength to anyone who's struggling with the daily battles of life. Momina's unique voice has a soothing effect so strong that you feel happy just listening to her croon.
Also Watch: Candidly Yours – Episode 2 – Featuring Badnaam
Momina Mustehsan looks lovely as always and watching her "live in the moment" with her girlfriends is making me want to call up my friends right now to loiter the streets without a care in the world.
Also Read: Latest Episode of Fanoos will Make You Dance in Your Seat
This new single has sky rocketed our expectations from Cornetto Pop Rock Season 2 and we can't wait for it to hit our screens real soon!
Until that happens, watch Jee Liya and hum your blues away!