An analysis was recently published by Centre for Peace and Development Initiatives (CPDI) to bring forth different trends of women's participation in the NA-154 by-election held on February 12, 2018 in Lodhran. The analysis was generated on a sample size of 50 polling stations. The sample was drawn using systematic random sampling method to select 15% of total polling stations.
Read: 3 Lessons PTI Should Learn From The Defeat In NA-154 By-Election
The report states that the total number of registered voters in the constituency is 4,31,002, with 2,36,496 (54.9%) male voters and 194506 (45.1%) female voters. To accommodate these voters, an equal number of 49 polling stations for men and women were been set up in addition to 240 combined polling stations in the constituency. These polling stations consisted of a total of 1,043 polling booths including 566 for men and 477 for women.
Gender Bifurcation of Staff at the Polling Stations
The data collected on election day showed that mostly same-gender staff was deployed at the polling booths. The CPDI team in its report observed that all the booths set up for female voters at combined and female polling stations had women as assistant presiding officers and polling officers.
Read: In Pictures: Asma Jahangir And Her Phenomenal Struggle For Human Rights
However, a dominance of men as presiding officers was observed on male and combined polling stations. This observation was further strengthened by the fact that all the 32 sampled combined polling stations had men as their presiding officer.
Women's Participation as Party Polling Agents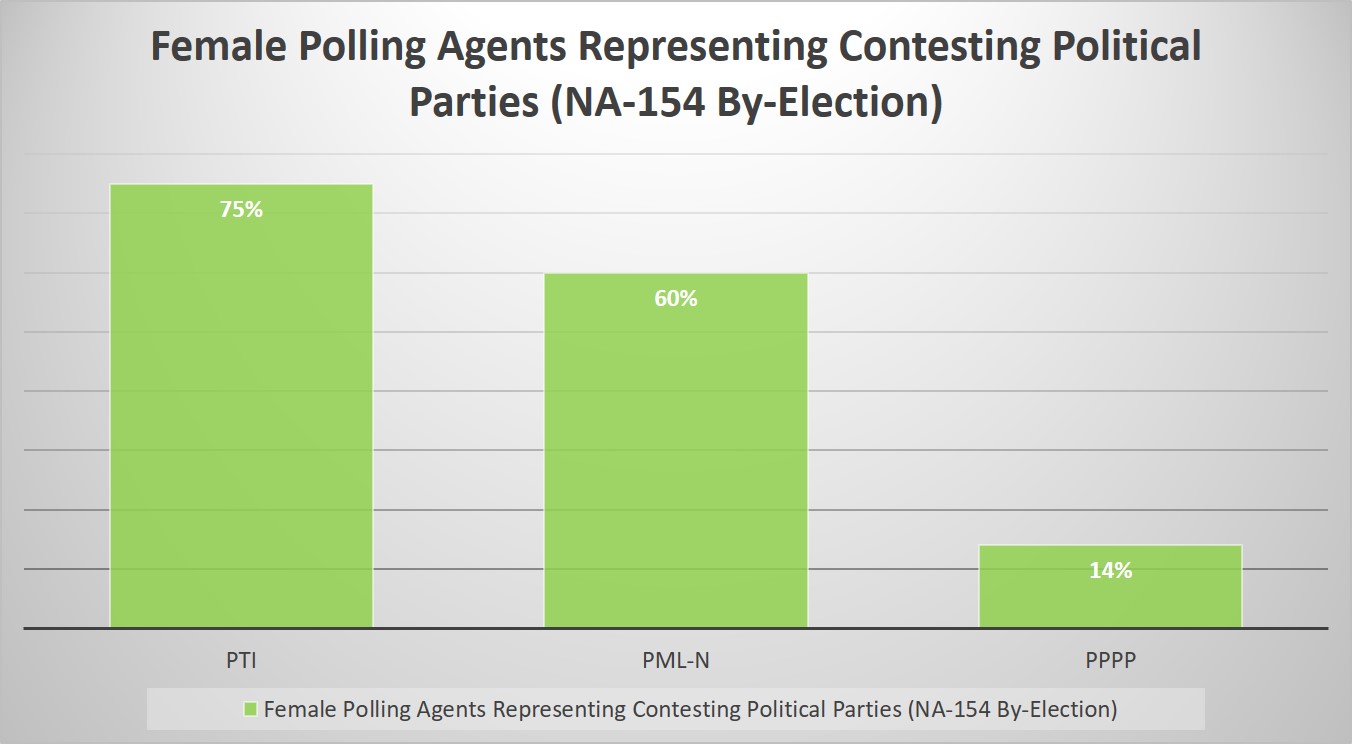 Pakistan Tehreek-e-Insaf (PTI) had the largest number of female polling agents at the sampled polling booths. PTI's female polling agents were present at 75% of these booths.
On the other hand, female polling agents belonging to Pakistan Muslim League – Nawaz Group (PLM-N) were present at 60% of the observed polling booths.
Female representation from Pakistan Peoples Party Parliamentarians (PPPP), was only at 14% of the sampled booths.
Read: Why Neglecting The All Pashtun National Jirga Is Unpatriotic If You're A Pakistani
Female Voter Turn Out
A relatively low turn out of women was observed in the NA-154 by-election as compared to men.
On an average 22 women voters voted in one hour compered to 27 men in the gender segregated sampled polling booths.
This low turn out was observed despite a mobilization campaign run by the Election Commission of Pakistan (ECP) to bring a greater number of women voters out on election day.
Female Voter Demographics
As stated in the report, the CPDI teams present on the polling stations also interviewed female voters to collect further data.
Average Age
The greater participation of middle aged, married women indicates that younger, unmarried women are discouraged from voting by their communities and families. Sending or taking along young girls to the polling stations is considered unnecessary exposure for them.
Read: Elections In Pakistan And The Rise Of Provincialism: The Case Of Punjab University
This emphasizes the point that ECP should direct greater attention towards female youth in its mobilization campaigns as their low turn out also manifests their lack of interest in political participation.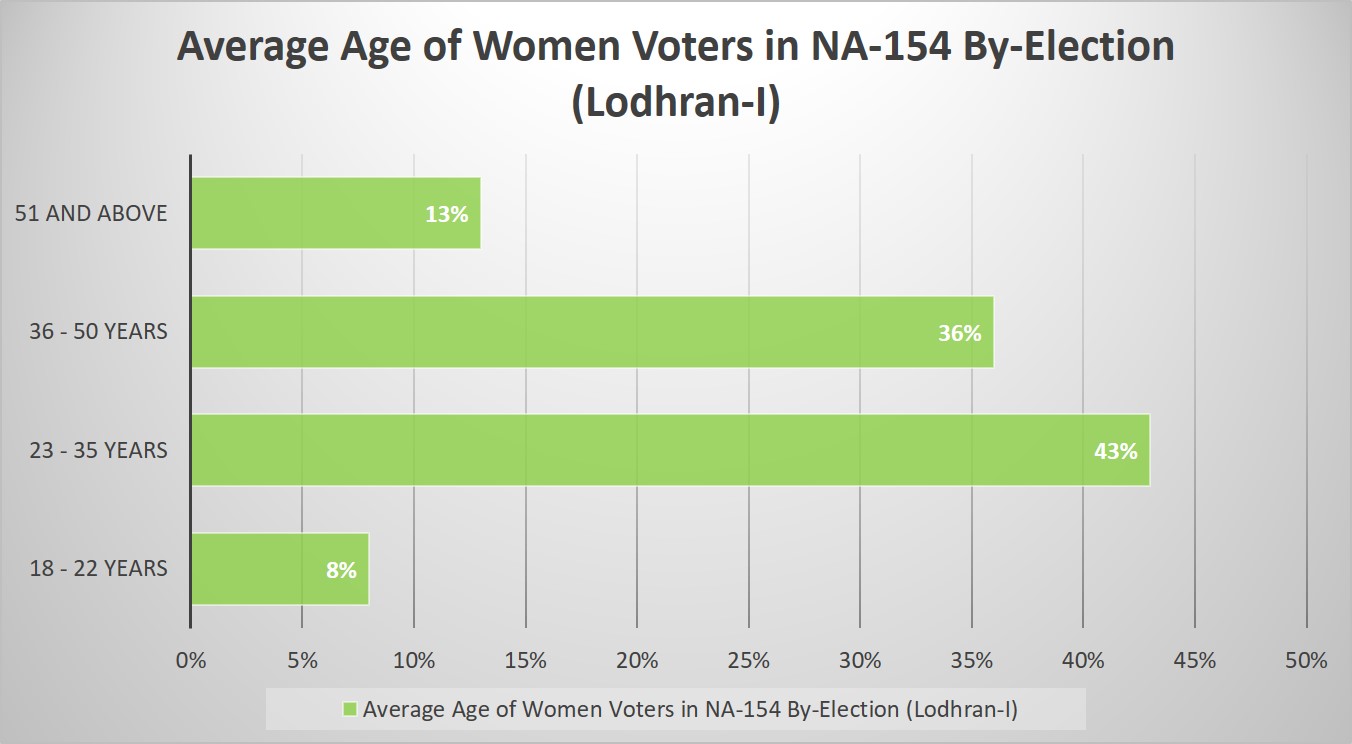 Occupation of the Female Voters
The interviews taken from female voters at the sample polling stations also showed that majority of the women who had come out to vote were housewives with a very small percentage representing females who were employed or students.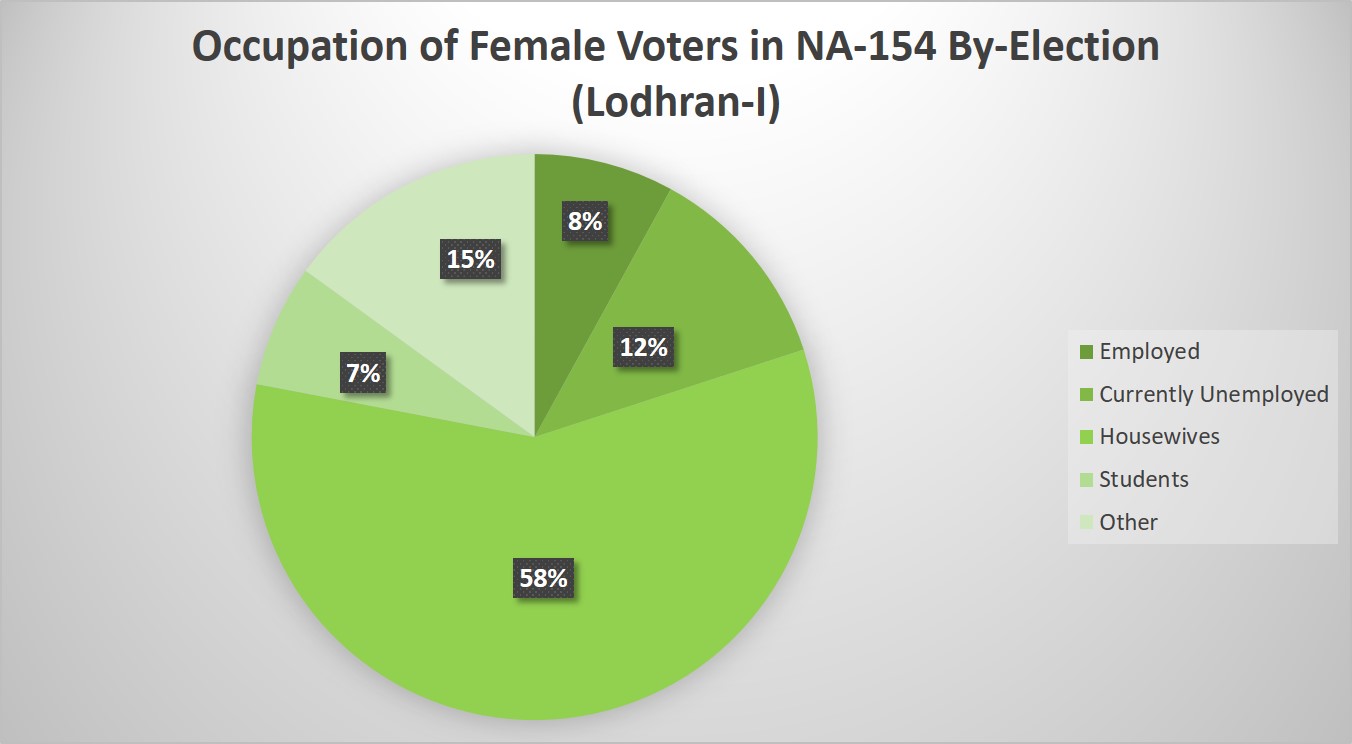 Literacy Level of the Female Voters
The CPDI interviewers also asked about educational background of women voters; 14% out of them were matric, 25% were below matric but literate, 38% were illiterate and 22% were graduates or above.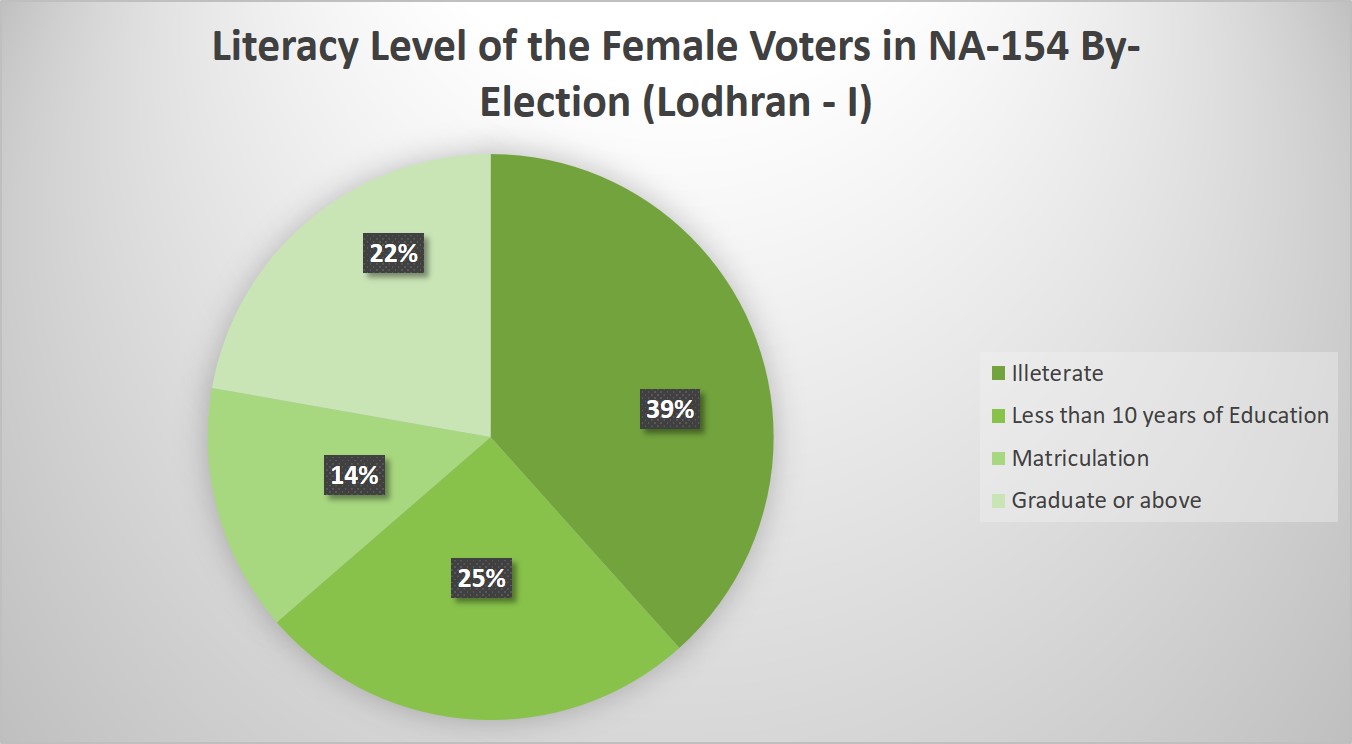 Female Voting Trends In NA-154 By-Election
It was observed that women turnout was the highest during 1:00 pm to 2:00 pm when per booth ratio remained 23 voters per hour. It appears that this is the time when women get free from their household responsibilities and feel their daily routine would not be disturbed by leaving home during this time.
Read: 3 Conditions That Should Apply To Every Pakistani Contesting Elections
Assistance for Women Voters with Special Needs
During the rush hours polling staff was unable to provide special assistance to older women, expecting mothers and mothers of infants. From 42% of sampled polling stations, there were no reports of preferential treatment being given to expecting mothers. In 39% polling stations CPDI observers said no preferential treatment was given to female senior citizens. Mothers carrying young children were further neglected in this category and observers from 46% polling stations reported that no preferential treatment was given to them either.