Umair Masood, who is a student of the COMSATS University in Pakistan, recently won the 'Young Scientist Award 2021' from the American LabRoots organization for his tremendous contribution in the field of Molecular Diagnostic Techniques. Masood was presented with this award by the organization at an annual conference on biotechnology about genetics and molecules.
The young Pakistani scientist, who is a fourth-semester biotechnology student won this award at a conference that was held earlier this month in which students from as many as 121 different countries across the globe participated.
Also Read: APS Survivor, Ahmad Nawaz Makes It To The Governing & Standing Committee Of Oxford Union In The University Of Oxford
According to several news reports, Masood who belongs from Havalian in Abbottabad district has been given this award by LabRoots for two separate scientific investigations. He presented those two investigations at the International Conference on Molecular Biology and Biochemistry in Australia, and the 13th International Conference on Tissue and Regenerative Medicine in the United States.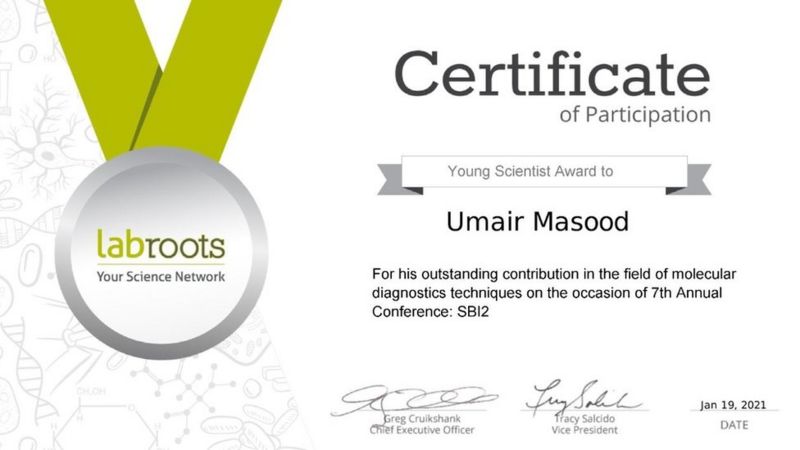 Also Read: PM Imran Khan Gives An Emotionally Charged Speech About A Corruption Free Pakistan, But The Nation Sounds Divided
From being denied admission to universities in his home country for a year to winning a prestigious young scientist award in 2021, Masood's path to success is rather commendable.
Umair Masood won the Young Scientist award by securing 336 votes, while students from Germany and Israel were able to secure 164 and 264 votes, respectively.
What is Umair's research about?
In his first research paper, Masood has suggested ways for people with hereditary diseases to cheaply and quickly get their ailments detected. In the second paper, he talks about how the genes of any living being can be obtained and transmitted to another. So, this will not only help in the treatment of hereditary diseases but also in the treatment of other diseases.
Have something else to add to this? Write in the comments below.