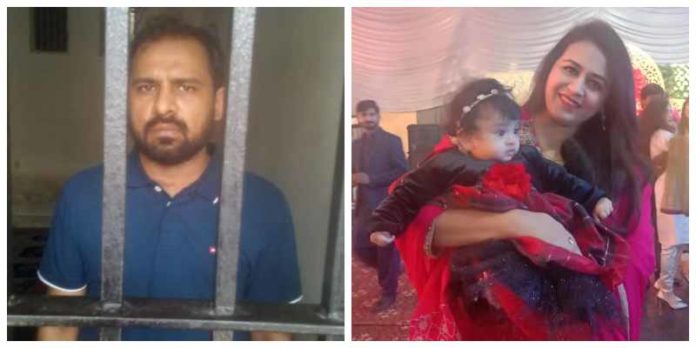 On Wednesday, broadcast journalist Ali Salman Alvi was arrested over charges of killing his wife, Sadaf Zahra, after a First Information Report (FIR) was registered against him.
Rawalpindi police arrested Alvi and started investigation for allegedly torturing his wife.
According to her friend, Sadaf met Ali Salman Alvi on the micro-blogging app. However, just a few months into the marriage, Sadaf found out that her husband was blackmailing women for money by using fake twitter IDs.
She found emails and receipts of money sent to her husband and on confrontation, he apologized by saying it was an old chapter that he needed to move past.
To save her married life, Sadaf fell for Alvi's apologies only to find out a year later that he was "dating" another girl in Islamabad. And yet again Sadaf tried to settle the issue by merely warning her husband.
After giving birth to their child, Sadaf thought that Alvi might have changed owing to the fact that he was a father now. But it was not the case. On many instances, she caught her husband red-handed, not only cheating on her but running a mafia of blackmailing other girls.
And now, when she stood up against her influential husband, she became a victim of physical abuse.
After several apologies and begging, Sadaf decided to go back to Alvi because she didn't want a future for her daughter without a father.
But she still had to face physical violence at her husband's house. The couple celebrated their daughter's first birthday on 20th June. And on 29th June Sadaf was found dead in her house with marks of brutal torture on her body.
Also Read: 3-Year-Old Kashmiri Child Witnessing The Murder Of His Grandfather Raises Questions On The Role Of UN
Ever since the heart-wrenching story of Sadaf Zahra was shared online, Twitter is in a state of rage seeking justice for the deceased.
Have something else to add to this story? Share in the comments below.