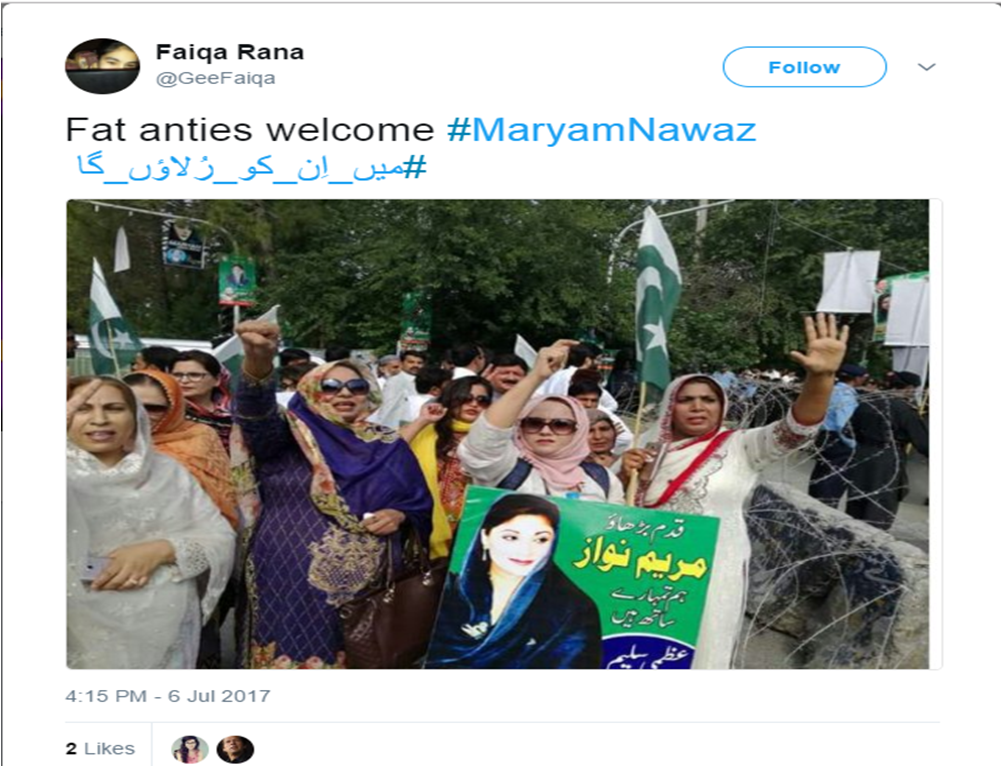 Maryam Nawaz and her paishi (appearance) before the PANAMA JIT has taken up the lion's share of media coverage since yesterday. However, it's not just the mainstream media that's going over board but even the Pakistani citizens through social media cannot stop talking about it. The hype can be gauged from the fact that #MaryamNawaz has been the top Twitter trend for the second day in a row on Pakistani Twitter.
Let's quickly sum up the mood of common people regarding the Panama JIT and how the Prime Minister's daughter is dealing with it.
The Honest Mango-man/woman
These are men and women who tweet as they feel. They're teets are simple and honest, irrespective of whether they support Maryam Nawaz or can't stand her.
Is this democracy?Ordinary masses don't need such sort of Democracy tht serves only elite & disastrous 4 commoners#MaryamNawaz #PanamaJIT https://t.co/WTY7xI4QdI

— Zeba Hussain (@ZZebahussain) July 6, 2017
" Pakistan ki Maryam "#MaryamNawaz
Apaa 😍 @MaryamNSharif pic.twitter.com/jD1ChqNDMo

— Kinza Raza Munoo (@KinzaRazaMunoo) July 6, 2017
#MaryamNawaz concluded that "they do not have to interfere in my family's private business". Meri behan sirf ye batado, paise kahan se aae?

— MFAS LION (@mfas_fouz) July 6, 2017
The height of psycho-political slavery when a BPS-20 Govt officer salutes a BPS-0 jobless woman. Pathetically laughable.#MaryamNawaz

— Dr Saqlain Shah (@DrSaqlainSh) July 5, 2017
The Serious-Analyst-Types
These twitterati are also of course common citizens but believe in analyzing everything in greater detail. At times they indulge too much in conspiracy theories but every now and then they make more sense than the actual political analysts on TV.
Exhibit A of a conspiracy theorist!
#MaryamNawaz pic.twitter.com/c0AeXp06Fi

— Pervez esabzai (@esabzai92) July 6, 2017
https://twitter.com/AzharAyaz/status/882483679100063744
https://twitter.com/KOGCorp/status/882937754975313920
The Humour-Mongers
We've heard about warmongers and hatemongers but there's a distinct group of Twitterati who can be labelled as humour-mongers. No matter what the situation, no matter how the rest of the world is reacting to it, this group of comedians will always find a way to crack you up with their tweets.
This Twitterati for instance cannot get over PML-N's weight woes.
Fat anties welcome #MaryamNawaz
#میں_اِن_کو_رُلاؤں_گا pic.twitter.com/6qCeQq0F0g

— Faiqa Ch (@GeeFaiqa) July 6, 2017
Then there's this one…
Beauty without brain #MaryamNawaz pic.twitter.com/u2uIl9dkdF

— Mariam Ellahi (@ellahi_ARY) July 6, 2017
https://twitter.com/Muaqaf_POV/status/882514655746428928
This guy just wants a day off…
Every Rainy days must be a holiday !!!
JIT aur kuch nai tu yahe decision dy dy #MaryamNawaz

— Fahad Jabbar (@Fadiiiiio) July 6, 2017
The Weirdos
They are crazy fans who want to fraandship with Maryam.
#MaryamNawaz
Very great lady and you like 27 not 47
I like you and yours preety smile
I want see you next PRIME MINISTER

— M ARSALAN MEMON (@MARSALANMEMON1) July 6, 2017
💚 Tum sah koi paayaara koi masoom nahi hai
tum jaan ho meri, tumy maloom nahi hai ❤️
Apaaaa #MaryamNawaz 😍😍 pic.twitter.com/zSm4P6InrW

— Kinza Raza Munoo (@KinzaRazaMunoo) July 6, 2017