Ever since the Afghan Taliban took over Afghanistan, Indian news media has been on an overdrive to spread propaganda about Pakistan.
The includes photoshopped images of Pakistani air fighters flying over the Panjshir valley, visual stills from the Pakistani war film "Yalghaar," posted as "proof" of Pakistani military involvement in Afghanistan, and even pictures of random people being passed off as Pakistani generals killed in make-belief battles on the Afghan soil!
A large number of Indian Twitter accounts are actively engaged in churning out fake news around the clock since the fall of Kabul.
A few years ago, this might have led to enraged responses on Pakistani Twitter but Pakistanis, it seems have finally gotten the hang of how the Indian information machinery works under Modi jee. And so, instead of spite, this fresh wave of propaganda is being complemented with spontaneous break-out hilarious memes and one-liners from the Pakistani side.
Read: Tarek Fatah Gets Massively Trolled After Mehwish Hayat Calls Him Out For Spreading Fake News
A former Indian military officer shared a picture from actor Shaan Shahid's movie "Yalghaar" claiming that Pakistani soldiers were martyred in Afghanistan. Apart from Shaan, the picture also features rockstar and actor, Umair Jaswal and heartthrob, Bilal Ashraf.
To the fake, @Fauji_Doctor and Maj Gen (Dr) GD Bakhsi (IF that's actually a real person): lazy job guys, very lazy job! I'd fire you both without a thought if I were your boss!
Some Indian news outlets also picked this tweet and ran stories around it! Journalism ho tou aisa!
Read: Everything You Must Know About The Anti-Pakistan, India Leaks
They – Modi jee's faceless troll army – also shared images of jet fighters claiming that Pakistan had attacked Afghanistan's Panjshir valley.
They were scenes from Arizona, the American state…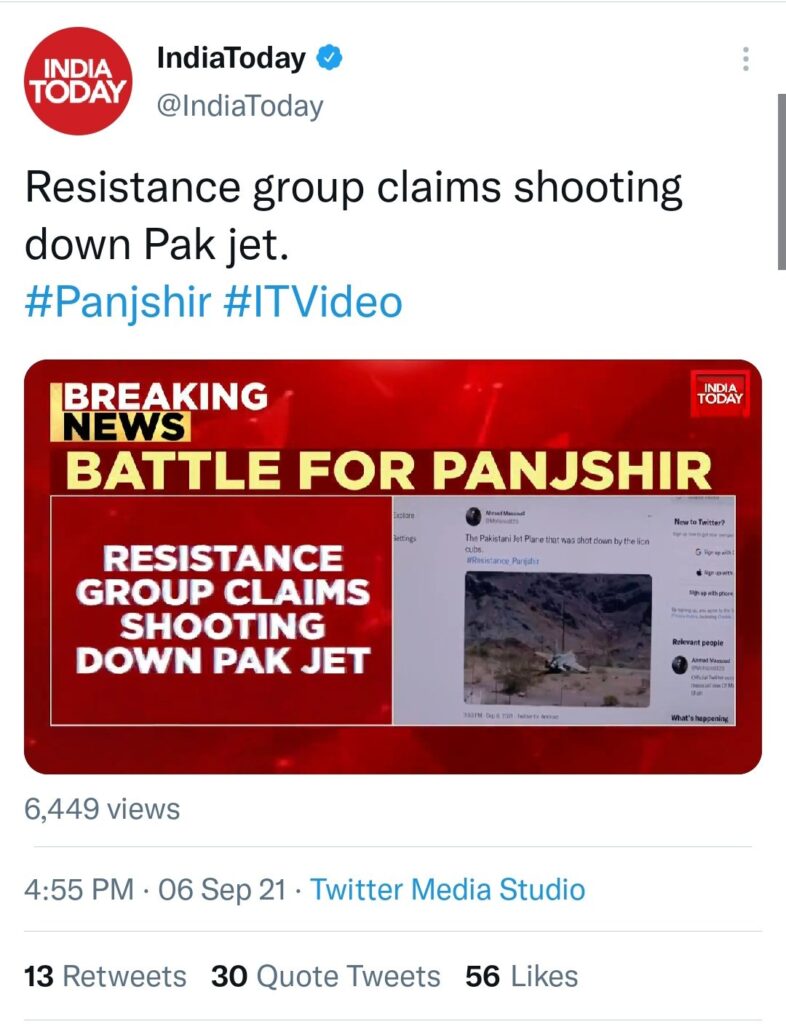 Here's one Twitter user presenting facts after an Indian news channel quoted a fake account saying Pakistan had taken over Panjshir valley.
And while some, quite understandably, might be at a complete loss of words for the embarrassingly half-assed effort by the Indian fake-news industry, there are others who can't stop having fun with it!
'Those whom the gods would destroy, they first make ridiculous.' https://t.co/jmn1LD6cVj

— Zarrar Khuhro (@ZarrarKhuhro) September 11, 2021
420 indeed….
Can't wait till India media runs tickers about Nishan-e-Hum Award!
Now I'm sure the Indian taxpayer is paying heavily for this fake news campaign that it has no say in formulating. BUT(!), if I were an Indian taxpayer, in the very least, I'd be up in arms against the blatant kam chori of Modi jee's disinformation department. Aik kaam jo theek see kar lein!
Have something else to add to this? Write in the comments.