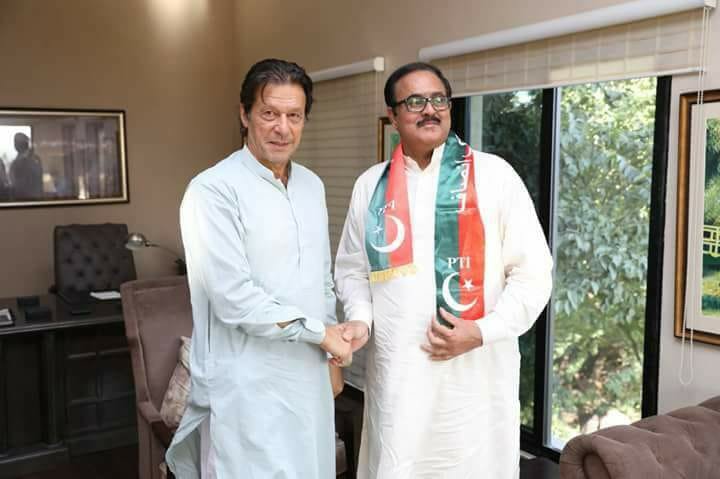 Farooq Bandial is a politician from Punjab who isn't known much for his political contributions but for being convicted of raping the retired movie star, Shabnam. He was clearly not in the social media spotlight before Thursday when PTI made an announcement about him being the latest addition to the party.
Read: The Case Of Sadat Bashir Shows That Pakistan Is Finally Raising Its Daughters Right!
Farooq Bandial enjoyed "good" fame hardly for a few hours as his handshake with Imran Khan almost simultaneously led to a Twitter outrage by party supporters and non-supporters alike.
Get rid of #FarooqBandial. This is highly irresponsible at PTI's part. No background check whatsever. These people are going to represent a nation for heaven's sake. You guys are just into collecting electables now. I am disappointed

— Jev (@Jev_Sagheer) May 31, 2018
https://twitter.com/_IamWaqas788/status/1002220900232650753
https://twitter.com/azlanshah143/status/1002205143469842434
Following unprecedented public pressure, Farooq Bandial was fired from the party by chairman Imran Khan within hours of his joining.
Read: You're A Certified Sexual Harasser If You Do These 5 Things
However, many remained unconvinced that PTI leadership was unaware of Bandial's history as a rapist before he was welcomed into the party. 
https://twitter.com/SaadiaBakhtawar/status/1002285314843578368
#FarooqBandial a convicted rapist joins a "PM-in-waiting" political party. When they realize the boo-boo a u-turn decision kicks him out.

This is so shameful – who's sadiq and ameen now?

— Faria Salman 💙 #WearAMask (@FariaSalman1) May 31, 2018
Some couldn't believe what was going on and got very sarcastic!
I swear #PTI research team are either asleep or the fasting, heat, load-shedding has really got to them. @ImranKhanPTI Khan saab please get rid of such a team that cannot even know that #FarooqBandial was an ex rapist. **Get rid**

— Lubna Sabir (@LubnaaSabir1) May 31, 2018
Big applause #IK for welcoming a gang rapist and then expelling him when people actually noticed. Either you didn't do your research, which makes you look foolish, or you did but accepted him anyway, which just makes you evil. Either way, you ain't lookin too hot! #FarooqBandial pic.twitter.com/NaapUNSjdv

— Nida Kirmani (@NidaKirmani) May 31, 2018
One shame followed by bigger shame. #FarooqBandial a convicted rapist, ordered to die, given clemency by dictator Zia joins #PTI. Zia committed judicial murder of SZAB just 6 months before this clemency. Zia had spared Bandyal gang as requested by S. M. Zafar. #ShamefulPTI pic.twitter.com/nied20HmaJ

— Murtaza Solangi (@murtazasolangi) May 31, 2018
V understand tht electables r imp but that doesnt mean u will lose an election if u dont hv an electable who is accused of a rape. I am unable to understand what Imran Khan's people around him are upto? Wondering who's Khan's advisor these days? 🤔 #FarooqBandial

— Shiffa Z. Yousafzai (@Shiffa_ZY) May 31, 2018
PTI leader, Shireen Mazari sent out this tweet with what is being claimed is "incorrect information," complicating the matter unnecessarily.
Farooq Bandial was in PMLN for 20 years but no one protested – perhaps they expect such criminals to find refuge in PMLN. I am glad PTI mbrs, supporters & the public have higher expectations from PTI and hold us to higher standards. We welcome this, are sensitive to it & respond

— Shireen Mazari (@ShireenMazari1) May 31, 2018
PML-N supporters instantly took it upon themselves to "get the facts straight."
Fact Check Alert#FarooqBandial never was a part of PMLN. PTI leadership must learn the fine line between fact and fiction. It's really important for a political leader to be factually accurate. pic.twitter.com/WR3tA0mSWm

— MUHAMMAD NISAR (@MnisarNaseervi) May 31, 2018
Last tweet on this is for all those who r trying to find "someone" to blame it on, STOP! Don't. not on this one my dear. That beast was never a part of any political party. Never an Mpa. It was his first, Great that he's kicked out. Hats off to those who reacted. #FarooqBandial

— Rabia Anum Obaid (@RabiaAnumm) May 31, 2018
جو لوگ کہہ رہے ہیں کہ فاروق بندیال ن لیگ میں تھا اور بیس سال وہیں رہا اُن کو یہی نہیں معلوم کے بندیال فیملی ۲۰۱۳ سے پہلے آزاد الیکشن لڑتی آ رہی ہے۔پہلی بار وہ پارٹی ٹکٹ پر الیکشن ۲۰۱۳ میں لڑےاور ایم پی اے کا نام تھا کرم الہی بندیال تو پھر کس طرح فاروق بندیال کا تعلق ن لیگ سے ہوا؟ pic.twitter.com/127HuhiQZI

— Zeeshan Khan Niazi (@niyazee26) May 31, 2018
Of course, Imran Khan also received a lot of applause from his supporters!
Nobody knew this guy #FarooqBandial before joining PTI and also this harsh incident of history, he came, he joined, got zaleeled and out of politics forever, Thank you PTI and Thank you insafian for raising your voice against it, Yes this is Naya Pakistan which we want! #RIPPMLN

— Nizar Ali khan (@NizaarKhan) May 31, 2018
For years this #FarooqBandial was in #PMLN but no media person saw it fit to object…the day he joins PTI its a public issue…Similarly #MianMithu was PPP MNA for 10 years but his meeting PTI Chairman became a Media Issue. I am proud to be #PTI where Public expects MORE

— Dewan Sachal (@essel1) May 31, 2018
https://twitter.com/ShireenMazari1/status/1002268866544795648
So, Farooq Bandial isn't part of PTI anymore but this incident left a big question mark on PTI's integrity as a political force. Are they just looking for electables? Have they bid farewell to morals and ethics? Is PTI really just a washing machine for the corrupt?
Read: You're A Certified Sexual Harasser If You Do These 5 Things
For us the most satisfying part of the fiasco was that a rapist was publicly humiliated after almost 30 years of committing a heinous crime for which he was disturbingly pardoned.
May Farooq Bandial spend the remainder of his life humiliated, shamed and shunned!
What is your take on the whole Farooq Bandial episode?