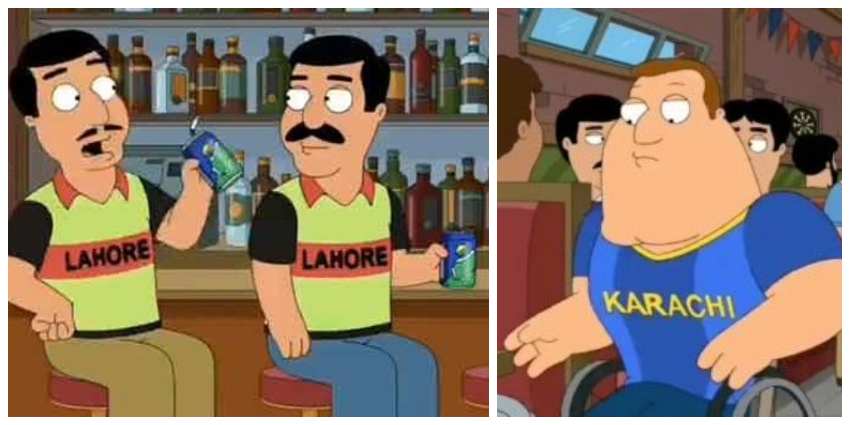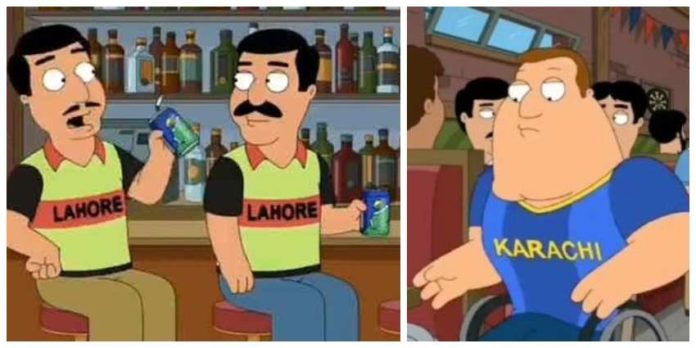 We don't find many desi references in the American pop culture and even when we do they're either depressingly somber or plain racist. But Season 19 of the popular animated series Family Guy came as a surprise as it featured a Pakistan Super League (PSL) joke.
The lead character Peter Griffin is seen hanging out with his friends at their favourite bar when the conversation turns to international sports enthusiasts at the pub.
"On Saturday mornings, it's just weird foreign sports fans, like those Pakistani cricket hooligans."
He then points at two Pakistanis, fans of the Lahore Qalandars.
Joe in turn, it is revealed is a Karachi Kings fan! But he hastily covers his KK t-shirt saying, "I am rooting for Karachi but I don't have a death wish about it."
Yes, even the Americans know it's Lahore vs Karachi every PSL – although God know why!
Also Read: Kangana Ranaut Calls Mumbai "POK" After BMC Demolished Her Office & No Babygirl, It's India
The clip has gone viral over the internet with Pakistanis rooting for the unexpected PSL crossover in the Family Guy episode!
The Pakistani cricket craze is going international and yes we're lovin' it!
Also Read: Twitter Is Cracking Hilarious Cake Jokes & You Can't Imagine What They Are Unless You See!
Cheers to the growing PSL fame!
But as is the case with all viral things, people found a reason to be unhappy.
The flawed representation of Lahoris was a point of contention in this case.
The wrong accent was actually a turn off for many!
But not all was inaccurate.
Pakistanis were shown having a soda instead of a beer at the pub so, at least they got that bit right…
…EXCEPT…Lahori uncles and beer isn't really a novel combo!
We're just happy PSL finally made it international!
Have something else to add to this story? Share in the comments below.