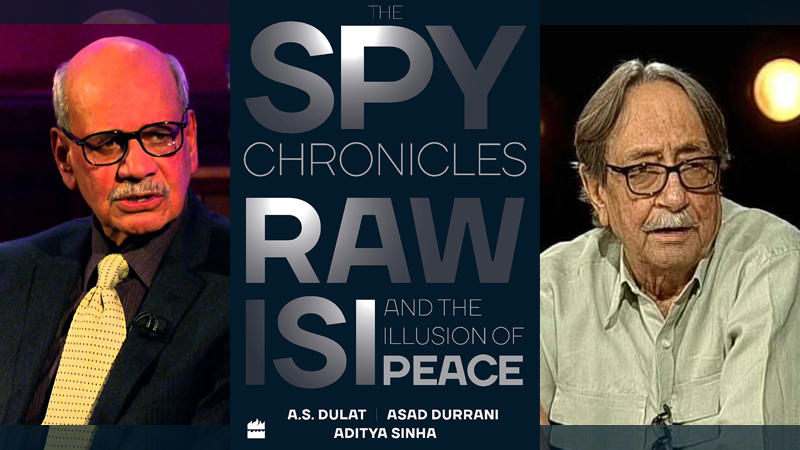 Former Director General of the Inter-Services Intelligence (ISI), Lieutenant General Asad Durrani left most Pakistanis in shock when the news of his upcoming book, The Spy Chronicles: RAW, ISI and the Illusion of Peace surfaced last week.
It is not the first time, of course that a former spymaster has decided to chronicle his experiences but what sets this effort apart from the others is the fact that Lt. General Durrani has co-authored the book with A.S Dulat, the former head of Indian intelligence agency, RAW.
Watch: Nawaz Sharif Turns To Facebook Following Media Blackout – Watch Video
Given the perpetual volatility of the Indo-Pak relations and the central role that their respective spy agencies play in this regard, it was only natural for citizens on both sides of the border to be surprised.
While many in India seem to be anticipating the book with great curiosity, their counterparts in Pakistan seem rather upset with the endeavour.
Why are Pakistanis Unhappy with t

he

Spy Chronicles: RAW, ISI and the Illusion of Peace?
It's an Indian Publication
Lt Gen Asad Durrani, Ex-ISI Chief co-authors book with Ex-RAW Chief A. S. Dulat. Whatever the motives, concept itself smells. Bound to have raised issues not favorable for Pakistan at this stage. No one has any right to benefit himself from information which is state's property. pic.twitter.com/cU3DAtyYuI

— Lt General Ghulam Mustafa – (Retd) (@_GhulamMustafa_) May 22, 2018
It makes sense for the Indians to anticipate the book since it has been written by an Indian journalist, Aditya Sinha with extensive inputs from the two former spy chiefs.
Read: The Misogynistic Face Of Pakistani Politics
Given that two-third of the authors are Indians, Pakistanis feel that their version of history might not be depicted accurately.
The fact that the publisher is also based in India (i.e. HarperCollins India) is not making Pakistanis feel less nervous.
Excerpts from the Book Endorse the Indian Narrative on Kashmir
According to reports, Gen Asad Durrani has claimed that Huriyat was a creation of ISI. He appears to be endorsing what ex-R&AW chief A.S. Dulat wrote in his last book "Kashmir: The Vajpayee Years" that Yasin Malik & Syed Ali Gilani were ISI's men.

— Roohan Ahmed (@Roohan_Ahmed) May 23, 2018
Ex- #Pak Spy Chief #AsadDurrani Admits #Hurriyat Was #ISI Creation, Regrets Giving 'Factions' Free Run in #Kashmirhttps://t.co/900IYwgD31

— عاصی Maqsood Asi (@MaqsoodAsi) May 22, 2018
Many misgivings are already being certified after excerpts from the book, claiming that the All Parties Hurriyat Conference led by Kashmiri leaders was ISI's creation were released to press.
This certainly puts a question mark on the entire freedom movement in Indian Held Kashmir (IHK) as well as the integrity of Pakistan itself.
The Civilian vs. Uniform Debate
Asad Durrani has said quite a few things in the new book. I wonder if NSC meeting will be called or not.

— Armaghan Ahmed (@armaghanahmed_) May 22, 2018
The book is arriving at a time when a lot of hue and cry was recently raised by the military leadership following former Prime Minister Nawaz Sharif's interview to Dawn. Sharif during the infamous interview to Cyril Almeida had hinted at the involvement of Pakistani nationals in the 26/11 Mumbai Attacks.
Read: Don't Shoot the Messenger!
Following the interview Director General ISPR, Major General Asif Ghafoor had advised Prime Minister Shahid Khaqan Abbasi to call a meeting of the National Security Council (NSC).
Sharif's statement was condemned in the NSC meeting while many took to unofficial channels such as Twitter to label him a ghaddar (traitor).
Read: The Best Among Believers – A Look At The Faizabad Sit-in
Quite naturally, with the "Nawaz ghaddar" mantra very fresh Sharif's supporters – and even those civilians who might not be PML-N voters – are now wondering if the same condemnation will be vetted out to the former ISI Chief for divulging state secrets for a book that is essentially Indian?
اگر یہ بات کوئی سویلین کہہ دیتا تو کب کا غدار قرار دیا جا چکا ہوتا #AsadDurrani https://t.co/ve0Ct6z9py

— TANOLi (@TariqM_T) May 22, 2018
Indian media loving Durrani-Daulat co-written book. Imagine if a Pakistani journo or a politician had done a book like this, penning things like this? Declared traitors, they and their children would have lived to regret it.https://t.co/tZON8lciLQ

— Syed Talat Hussain (@TalatHussain12) May 22, 2018
Whether the apprehensions of the Pakistani citizens are valid or as the authors claim, the book might serve as a huge effort towards peace-building in the South Asian region is yet to be seen.
On our part we promise to return with a cover-to-cover review of The Spy Chronicles: RAW, ISI and the Illusion of Peace as soon as it hits the book stores.