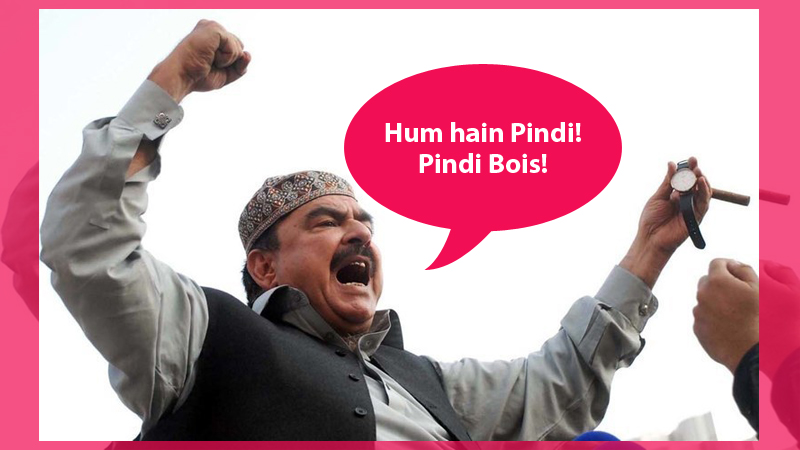 Pakistan Supreme Court dismissed the disqualification plea against Sheikh Rasheed early this morning. As is the case with every "happening" political development, #SheikhRasheed began to trend on Twitter almost immediately. And with the hashtag came an avalanche of proud "Pindi Boy" memes.
While we obviously couldn't bring the entire Twitter mania to you, here are some of our picks that we found most hilarious!
Read: Twitter Goes Crazy Following The News Of Imran Khan's 3rd Marriage!
Before we get to the Pindi Boy memes here is a look at a couple of people who expected a different result and who were clearly praying for it before the judgment came out.
#SheikhRasheed
Inshaa Allah he will be disqualified hopefully and sakoon ho jayega mulk me as he's the biggest liar of our country , don't know why ppl listen to him as his predictions always fail…

— Engr Rai Usman (@EngrRaiUsman3) June 12, 2018
https://twitter.com/Tahreem_x/status/1006676907050618880
Nevermind, this is exactly what happened.
Read: The Funniest Public Reactions to Panama Verdict
#BREAKING: #SC dismisses disqualification plea against #SheikhRasheed #CapitalTV pic.twitter.com/zpBJMrJRiR

— Capital TV (@CTV_Digital) June 13, 2018
Because "Cigar and Celebrations" go hand in hand!
Pindi boy has been declared qualified #SheikhRasheed pic.twitter.com/CfFMnfbOEv

— Amna Ali (@AmnaAliAlpiyal) June 13, 2018
Now, did he say that?
Read: The Misogynistic Face Of Pakistani Politics
I am a 'Pindi boy', says @ShkhRasheed #DunyaUpdates #SheikhRasheed #Rawalpindi

Watch #DunyaNews Live: https://t.co/WzGiFMYqsz pic.twitter.com/T3tVhaBRPc

— Dunya News (@DunyaNews) June 13, 2018
Well, all of them? Really?
#SheikhRasheed Congratulations Pakistan!
Murshad Sadiq & Ameen!
Pindi boys are never corrupt… pic.twitter.com/7pV4Qr6wuB

— Zain Ahmed Tariq (@ZAT_LAW) June 13, 2018
Ok, if you say so?
https://twitter.com/SardarMuneeba/status/1006759733758488582
So, it is NA 70.
https://twitter.com/Talhakhan3501/status/1006762769025298432
Remember the Name! We Sure Do!
Ladies and gentleman we have another Sadiq and Ameen now… Remember the name @ShkhRasheed#SheikhRasheed pic.twitter.com/QOJl9ig5zv

— AHMAD SHAH (@iamahmadshah) June 13, 2018
Read: 3 Pakistani Politicians Who Are Famous For Behaving Like Angry Little Kids
Shiekh Rasheed has been having the time of his life since Nawaz Sharif was disqualified by Pakistan Supreme Court last year. However, will the good times for Sheikh Saab continue? Only time will tell! For now, we can only congratulate the ultimate Pindi Boy on the recent verdict.