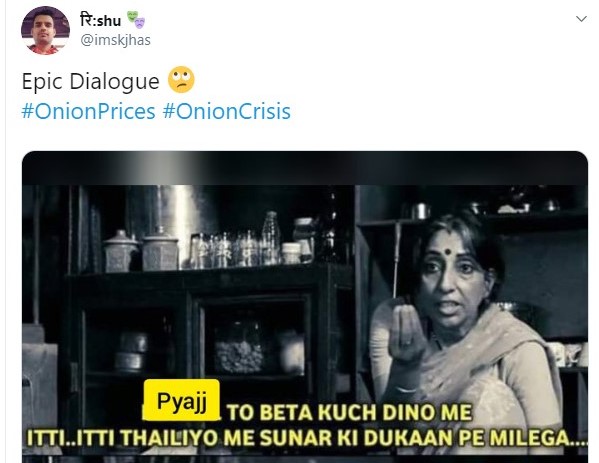 For more than 72 years, India and Pakistan have been in a long standing battle of who has it better in their country. The two nations have locked horns with each other at every opportunity and don't seem to miss a chance to ridicule the other.
Not just in times of prosperity but even during crises, the two countries do not want the other to take lead.
It seems that when we were having our tomato crisis, our neighbors felt left out and couldn't bear the fact that we were having a crisis, all on our own.
So in order to retaliate, the noisy neighbors have come up with their own crisis.
For the past couple of days, the prices of onions in India are at an all-time high and have broken all previous records.
In many parts of the country, onions are being sold at Rs 180/kg (Indian rupee). This sudden surge in prices comes after flooding in prime onion-manufacturing states like Maharashtra and Karnataka.
Read: Hilarious Anarkali Memes Make A Re-Appearance After Nawaz Sharif Flies Out Of Pakistan
Amidst all the tears, Indian Twitter has been in top form with onion memes ruling their cyberspace.
And as usual, the best "commentary" came from Indian politicians, giving greater fodder to jest-makers posting Indian onion memes.
While the whole of India was moaning about the price hike, one religious group was not impressed with all the chatter.
Jains are not religiously allowed to eat onions so hike or no hike, they couldn't care less and the jain-version of onion memes is proof!
Read: Parody Account, Pyare Khalil Is Flooding The Internet With Khalil-Ur-Rehman Qamar Memes & You've Got To See Them!
The Indian officials have said that they have imported huge amounts of onions from abroad which will be received by mid-January. How the government will control the prices is yet to be seen but one thing is for sure, we might be divided by borders, but we're united by inflation.