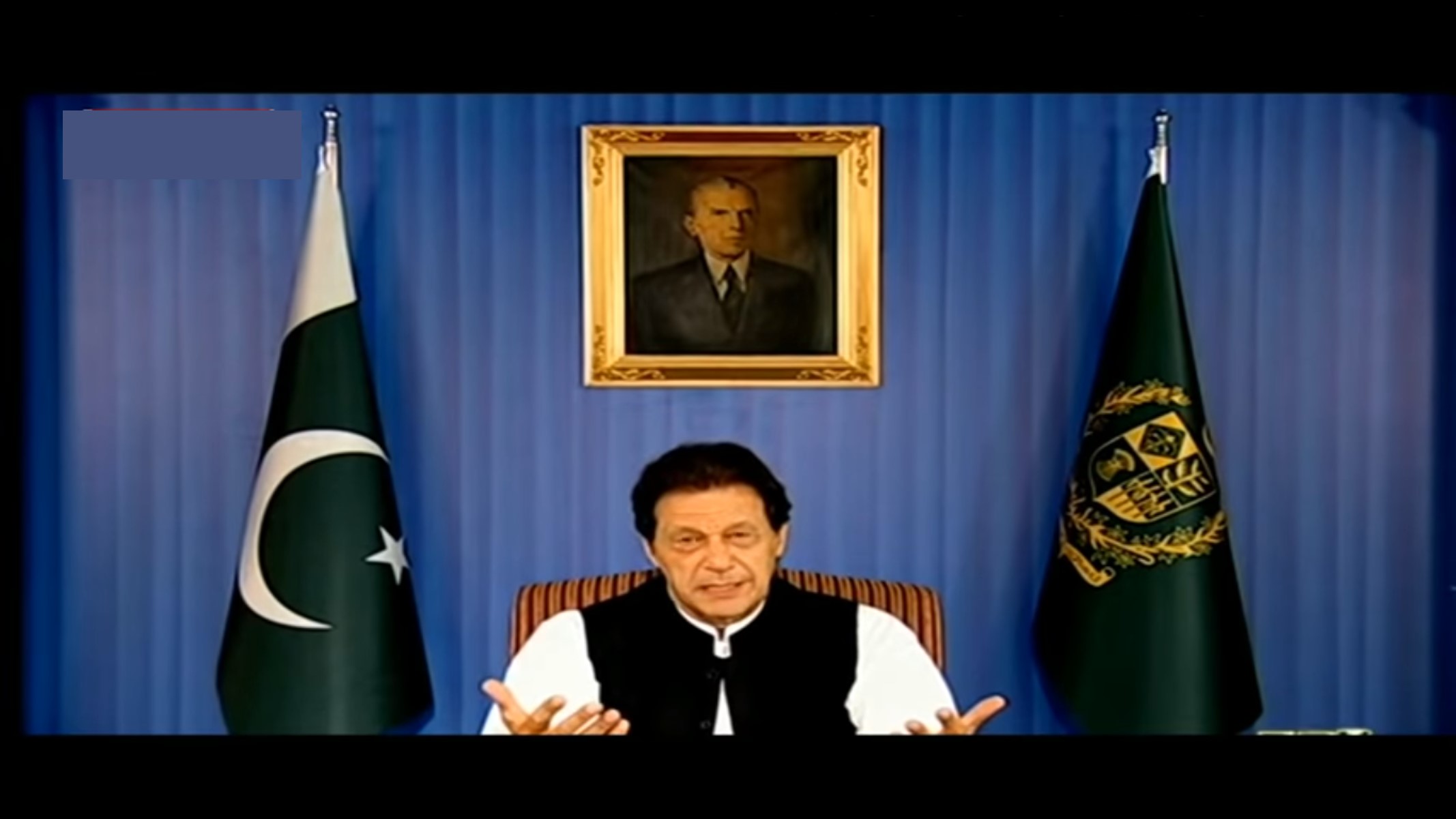 Late last evening, the newly elected Prime Minister of Pakistan, Imran Khan addressed the nation for the first since assuming power. His speech that went on for almost an hour and a half broke many conventions, surprising and eventually winning over many of his staunchest critics.
As soon as the camera rolled, gone was the Khan who was known for fiery speeches that were dedicated to speaking ill of his political opponents and riddled with unceremonious language. In his place was a calm and collected gentleman, having a candid discussion with his people, recounting (almost) every issue that plagued them and paternally offering a road map to a better tomorrow.
By the end of Imran Khan's address to the nation, the reflections of even his stanchest critics demonstrated a visible thaw.
Received calls & messages from the staunchest of @ImranKhanPTI haters since last night…everyone of them full of appreciation
Some even claim to have tears while listening to him. Interestingly he has been saying the same thing for 22 years 😊#PMIKAddress

— Ali Haider Zaidi (@AliHZaidiPTI) August 20, 2018
https://twitter.com/cyalm/status/1031236908234559488
Given the nature of the Premier's maiden address to the nation, this overwhelmingly positive reaction was not surprising at all.
Read: 3 Reasons Why PTI's Naya Pakistan Requires Time & Patience
Now it is not the first time that a head of state has reminded us of the many challenges that face Pakistan, but it is certainly the first time a sitting Prime Minister has chosen to speak about entirely neglected issues such as childhood malnutrition, under-5 and maternal mortality, education emergency, climate change and child sexual abuse. While these issues have been plaguing Pakistan for decades, it is a first that an elected Prime Minister has acknowledged them as key concerns and promised to address them during his tenure.
#ChildSexualAbuse to be dealt by Government with iron hands #PMIKAddress
Thank you prime minister @ImranKhanPTI for speaking #ChildRights in your address with Nation.@CanpkOrg @CRMPunjab @RightStepPk

— Miqdad Syed (@Miqdadnaqvi) August 19, 2018
When did a Prime Minister in Pakistan speak about Child Sexual Abuse?… Ok, now I'm just overwhelmed… @ImranKhanPTI 🙏🙏

— AreebahShahid (@AreebahShahid) August 19, 2018
HDI, hells yes. Talk about infant mortality, malnutrition, education, quality of life, over population. 🙌

— Imperial Marcher (@ST_Incognito) August 19, 2018
Pakistan is then rightfully overwhelmed with hope and excitement for a better, more prosperous future.
My 9 yr old son after watching #PMIKAddress "Baba I want to make a plan tomorrow morning – How can I make my country better".

Me: Me too.

Hope wins.

— Adeel Hashmi (@AdeelHashmi3) August 19, 2018
The PMs speech simply captivating, straight from the heart "of the people by the people for the people" Inshallah united as one Pakistan shall rise again !!! #PMIKAddress #ImranKhanPrimeMinister

— Nadeem Omar (@nadeem_omar57) August 19, 2018
Tonight I didn't see a politician or a party head speak, I saw a man who genuinely felt the pain of this nation and spoke his heart out.
Imran Khan tonight you have truly become a Prime Minister. May Allah be with you.#PMIKAddress pic.twitter.com/KImp5qFIZm

— Zain Khan (@ZKhanOfficial) August 19, 2018
Totally speechless…. got tears in my eyes #PMIKAddress @ImranKhanPTI pic.twitter.com/HnhVN23dnK

— Mohsin khan (@Mosi_khan95) August 19, 2018
For once the entire nation seemed glued to a single "programme," on television. Many shared how the newly elected Prime Minister had their entire family's attention.
Listening…. from my 84 year old father in law to my 11 year old son. Listening in hope and keeping the faith. pic.twitter.com/WNeLpSCz8k

— Nadia Jamil (@NJLahori) August 19, 2018
https://twitter.com/DrAyeshaNaveed/status/1031287721560625152
Those in Pakistan were not the only ones listening intently to Khan. Even ex-pat Pakistanis had made it a point to listen to the Prime Minister's maiden address to the nation.
This is the impact Khan's inaugural address to the nation has had on some. A friend living in Europe announces publicly to transfer his savings to Pakistani banks.. wow seems small?#PMIKAddress pic.twitter.com/tl52RtQU3p

— Syed Ali Abbas Zaidi (@Ali_Abbas_Zaidi) August 19, 2018
Dr Imran Malik is a neonatologist in America and after listening to #PMIKAddress , he has decided to sell all his property in America, both he and his wife are going to resign and come back to Pakistan to help Imran Khan make "Naya Pakistan".

Malik sab, chaa gaye ooo!!! https://t.co/qHSOWcqxAy

— Shoaib Khan Sudozai (@DrShoaibSudozai) August 19, 2018
The one phrase used by Premier Khan in his speech that quickly caught on and has been doing rounds on social media since last evening was most definitely, "Aap ny ghabbrana nahi hai," (i.e. you do not need to panic).
– When your Prime Minister says 'aapnay ghabrana naee' – Makes your heart feel so full. Love you Captain! 🇵🇰❤️#PMIKAddress #PrimeMinisterImrankhan @ImranKhanPTI @PTIofficial

— Uzair Jaswal (@uzairjaswal) August 19, 2018
My favourite part of @ImranKhanPTI address: "Aap ne ghabrana nahi hai." (You dont have to worry)
The nation finds rejuvenating hope as Kaptaan leads with indomitable faith and confidence. Inshallah for better days to come. #PMIKAddresshttps://t.co/8jxIWeLVFN

— Sidra Iqbal (@SidraIqbal) August 19, 2018
Of course, not everyone was on the same page. There was a segment of Pakistanis who remained as disgruntled and unhappy with Imran Khan after the address as they were upon his election.
IK just mentioned about book of Ishrat Hussain … here is what opinion he has about PMLN leadership @president_pmln @CMShehbaz #PuppetPMkaTamasha pic.twitter.com/l3P4o6i69C

— Mian Akhtar Ali (@MianAkhtarAli) August 19, 2018
I'm sick of these talks, * humaray Han yeh kharab hai PM k pas itni gariyan hain, global warming horahi hai* We know this already give me something new give me something more credible to believe dat even if you r selected,you are selected for a good Reason ! #PuppetPMkaTamasha

— Maham Ansari (@ansari_maham) August 19, 2018
https://twitter.com/zalmeypukhtoon/status/1031222368843247617
Then there were those who were up set that the Prime Minister did not touch upon certain issues in his address that demanded attention.
Shame on my #PuppetPMkaTamasha No Kashmir Issue
No Petrol Issue
No Kalbushan Issue
No IMF issue
No Institute Audit Issue
No Energy Sector Issue.

نوٹ. سب کچھ پرچے سے دیکھ کر پڑھتا رہا

— Malik Noor Awan (@MalikNoorAwan5) August 19, 2018
وزیراعظم کی تقریر میں میڈیا کی آزادی کے حوالے سے کچھ نہیں کہا گیا کیونکہُجتنابمیڈیا آج بے بس ہے پہلے نہ تھا ، وزیراعظم نے اُن حلقوں کے بارے میں بھی کچھ نہیں کہا جہاں دھاندلی کے الزامات ہیں، مذہبی انتہا پسندوں، کالعدم تنظیموں کے بارےُمیں اقدامات کا اعلان ہونا چاہئی #PMIKAddress

— Asma Shirazi (@asmashirazi) August 19, 2018
After carefully listening to Imran Khan's address to the nation and having gone through both sides of the arguments put forth by Pakistanis, our own verdict is quite similar to that of veteran columnist, Nadeem Farooq Paracha.
Empathetic address by @ImranKhanPTI. Hit the right notes. A mixture of Ayub's developmental model and ZABhutto's populist postures. Hope he hasn't bitten more than he can chew. But the wish is he's able to achieve what he has promised. He has my (critical) support. All the best.

— Nadeem Farooq Paracha (@NadeemfParacha) August 19, 2018
You have our (critical) support Prime Minister Khan!