PML-N leader Abid Sher Ali was present at a community event in London to distribute awards among community leaders.
But no one including Abid Sher Ali had anticipated what lay ahead!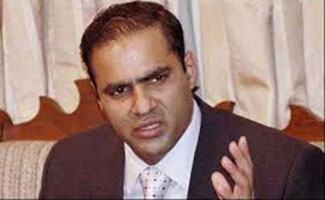 Read: The Austrian World Summit Acknowledges PM Imran Khan's Efforts To Combat Climate Change
The situation took a surprising turn when a community leader, Atta Chaudhary was called on stage to receive his award.
Read: Mubashir Xaidi's Insensitive Meme About Naeem-ul-Haq Led To A Nasty Spat With Aamir Liaquat
To everybody's surprise, the man took the mic from the host and said, "I'm sorry, but I don't receive awards from thieves."
Read: Celebrities Laud Imran Khan As He Warns Against Targeting Minorities
And as soon as he said this the audience began clapping and chanting slogans against Abid Sher Ali.
Read: Airport Staff Was Caught On Camera Demanding Bribe From Pakistani Passengers For Coronavirus Clearance & It's Enraging!
Befuddled by the situation, Abid delivered his speech but had to leave as the crowd wasn't ready to hear what he had to say.
Atta Chaudhary, while talking to media spoke about Sher Ali's questionable track record punctuated with a number of on-going cases.
Mr. Chaudhary said that no Pakistani could give respect to such a personality.
OUCH!
Read: Khalil-Ur-Rehman Qamar Continues His Streak Of Making Insensitive Remarks On Live Television
The viral video has – OF COURSE – given PTI and PML-N supporters another reason to bicker online…
Read: Coronavirus Outbreak Pakistan: Personal Data Of Patient Zero Is Circulating Online & Its Enraging!
What are your thoughts on this incident? Share your views in the comments below!