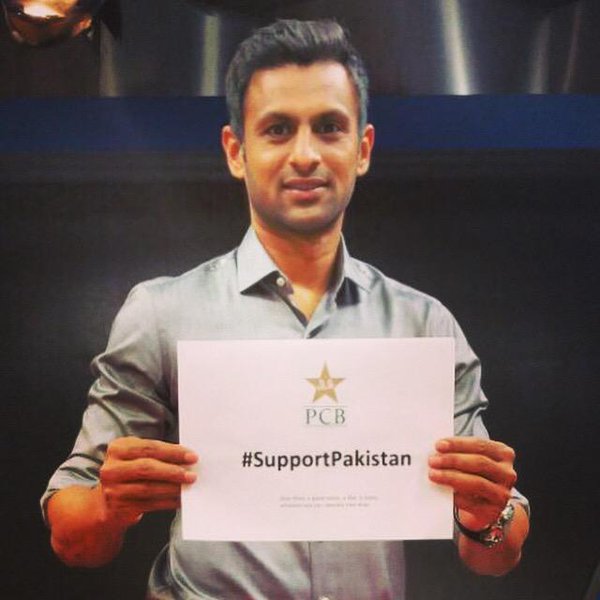 With Pakistani Twitter mostly ruled by politically motivated hashtags, it's refreshing to see some positivity trending today. Pakistan Zindabad is among the top ten trends on Pakistani Twitter with the hope to make it a Worldwide trend before Independence Day on August 14, 2017.
The brainchild behind this wonderful movement is Pakistani cricketer, Shoaib Malik who has taken it upon himself to bring smiles on the faces of his countrymen and women through this Twitter hashtag campaign. Details of the campaign in Shoaib Malik's own words can be found here.
#PakistanZindabad is our movement to showcase Pakistan w a world record iA

August 14, @ 19:47

Info: https://t.co/lJQ5Go5Ikh

R U with me?? https://t.co/CxuQjyx5FP

— Shoaib Malik 🇵🇰 (@realshoaibmalik) July 16, 2017
What Does Shoaib Malik Want to Achieve?
Tired of negativity on social media (we said so!) Shoaib Malik decided to launch a hashtag campaign that would show the world the side of Pakistan that we all love and cherish.
Through this movement he also wants to create a world record by making #PakistanZindabad the longest lasting Twitter trend. The current trend is held by a hashtag that lasted for 39 days. All we have to do as Pakistanis is ensure that #PakistanZindabad remains alive on the Twitter trends for 40 days!
How Are Pakistanis Reacting
Needless to say, the hashtag has sent patriotic Pakistanis into a frenzy and they're breaking the internet with #PakistanZindabad.
Take a look to find out how Pakistan is celebrating through its tweets!
Also Read: How Pakistani Twitter is Reacting to Panama JIT Today
The Chanting Celebrities
A lot of celebrities (including sports men/women, politicians and actors, singers etc.) have joined the movement to make #PakistanZindabad a lasting trend.
Annie of "Mahia" fame wants to remember the Muslim world's first female Prime Minister as the pride of Pakistan.
Benazir Bhutto became the first female prime minister of Pakistan and of any Muslim nation in the world #pakistanzindabad

— Annie Khalid (@annie_khalid) July 17, 2017
Former cricketer, Waqar Younis takes this opportunity to remember the sacrifices of our brave soldiers.
Salute to our Brave Hearts #PakistanZindabad 🇵🇰🇵🇰🇵🇰 pic.twitter.com/R3i3olRJ7M

— Waqar Younis (@waqyounis99) July 16, 2017
PTI politician, Faisal Javed Khan cannot stop gushing!
Such a great day Shoaib Malik picked for #PakistanZindabad – Let's all tweet and spread it – Great initiative by @realshoaibmalik #Prayers

— Faisal Javed Khan (@FaisalJavedKhan) July 16, 2017
What About Other Twitterati?
Hundreds of thousands of Pakistanis have joined Shoaib Malik's #PakistanZindabad movement since its launch yesterday. Here's a glimpse of their enthusiasm and the reasons that make them – and all of us – proud Pakistanis.
Arfa Kareem –  gone too soon but shall never be forgotten…
https://twitter.com/iMaryamSays/status/886670424737710081
Sialkot – the world's largest producer of hand-sewn footballs.
Sialkot, located in Pakistan, is the world's largest producer of hand-sewn footballs..#PakistanZindabad

— Syed Muhammad Shah🇵🇰 (@mshah_k) July 16, 2017
Pakistan's visually impaired cricket team made us proud for 5 consecutive years!
Pakistan Blind Cricket team remained undefeated for five (5) consecutive years in one-day International Cricket. #PakistanZindabad pic.twitter.com/L0YsnX04Bk

— Musawir (@Musawirr_) July 16, 2017
Nusrat Fateh Ali Khan = LOVE
https://twitter.com/officialhassam/status/886665906876764161
The breathtaking North…!
#PakistanZindabad
Mesmerising places !!!
Nature at its best can be seen all across Pakistan.
A real heaven on earth. pic.twitter.com/p7IPeglzTa

— پریسا (@Pareesa__) July 16, 2017
True that the trend is still way below a lot of hashtags that do not deserve to trend but the fact that it's there is reason enough to feel good!
Also Read: 3 Types of Insane People You Easily Find on Social Media
Now stop reading and get started to make #PakistanZindabad a world record! Happy tweeting!