In order to promote inter-faith harmony and acceptance towards minorities in Pakistan, actress Sarwat Gilani celebrated Raksha Bandhan with her (Hindu) cook, Ganaish, on August 23.
The celebrated actor is progressive about many aspects of life, and she is not one to shy away from showing this side of hers to the world. In a similar attempt, she posted the video of her celebration on social media for global viewers to see, and this is definitely something more people need to follow.
The Churails actor sent out a message that she wanted to promote inclusivity for the marginalized communities and to make them feel accepted.
Read: Poland Based Pakistani, Dr. Ali Jawaid & Dutch-Pakistani, Dr. Suleman Shahid Team Up To Enrich VR Based Dementia Treatment
"Minorities living in Pakistan should be made to feel welcomed and loved by every Pakistani," wrote Sarwat in her Instagram stories.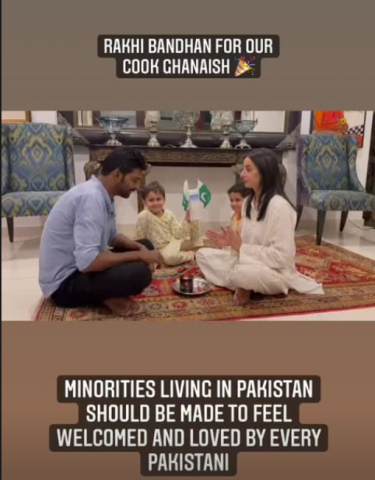 The video of her celebration showed the actor sitting across from her cook, Ganaish, where she seemed excited to follow his instructions on what all she was supposed to do.
After listening to him, she first put kumkum on Ganaish's forehead and then tied a rakhi (bracelet) around his wrist.
A little about Raksha Bandhan
Raksha Bandhan is an age-old Hindu ritual where sisters tie a rakhi around the wrist of their brothers, which is meant to protect them against all evils. To reward their sisters' love, brothers give them a gift in return. Afterwards, they renew their promises to be there for each other in good, bad and ugly times.
For the ritual, the sisters collect rakhi, kumkum, diya, incense sticks and sweets to make the moment special. The celebration is more of a cultural tradition than a religious ceremony.
Do you have something to say about how Sarwat Gilani celebrated Raksha Bandhan with her cook? Write in the comments.