London City Airport was shut down on Tuesday morning after protesters identifying themselves as members of the Black Lives Matter movement stormed the runway.
Activists in support of BLMUK #Shutdown London City Airport to protest the UK's environmental impact on black people pic.twitter.com/7LvFnB9Pv3

— #BlackLivesMatterUK (@ukblm) September 6, 2016
It was reported that the protesters evaded security by using a rubber dinghy to cross the docks.
The protest comes in the backdrop of UK's notorious environmental policies that have disrupted the lives of black communities across the globe.
Since the outbreak of the protest at London City Airport, the official twitter account of Black Lives Matter UK has posted a tirade of tweets claiming responsibility for the protest, criticizing the UK government's racially bias environmental policies and highlighting their impact on the black community.
According to Black Lives Matter , "Climate crisis is a racist crisis. 7/10 of the countries most affected by climate change are in sub-Saharan Africa." The Movement further adds, "The UK is the biggest per-capita contributor to temperature change & among the least vulnerable to its affects."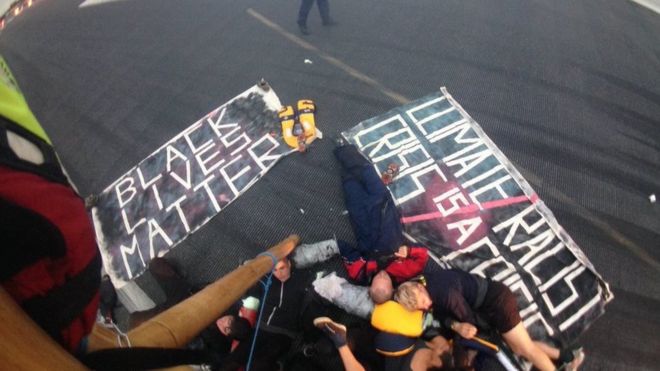 Climate crisis is a racist crisis. Cut emissions. Open borders. #Shutdown. pic.twitter.com/IUOaeaTrmw

— #BlackLivesMatterUK (@ukblm) September 6, 2016
Black Lives Matter UK launched a series of protests across the United Kingdom last month. taking to Twitter, the Movement said, "At London City Airport a small elite is able to fly, in 2016 alone 3,176 migrants have died or gone missing in the Mediterranean.
"By 2050 there will be 200 million climate refugees. Black people are the first to die, not the first to fly, in this racist climate crisis."
According to BBC, the Met Police was called to the airport site at about 05:40 BST and its officers are currently on the site of the protest trying to resolve the crisis.
According to the London City Airport authorities, inbound flights were being diverted until the runway was cleared from the protesters.
It is worth pointing out that London City Airport is particularly popular with people belonging to the business community owing to its closeness to Canary Wharf in London Docklands.