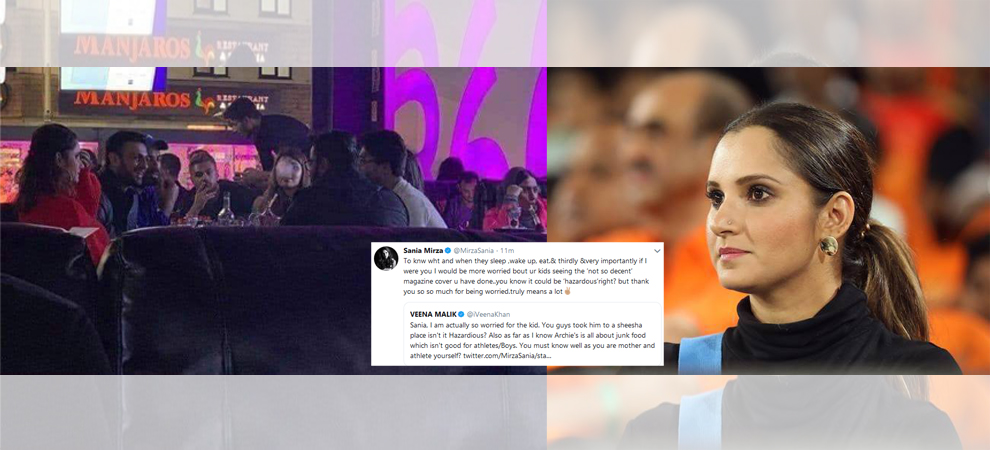 Pakistan faced another terrible defeat at the hands of the Indian cricket team a day before yesterday in the world cup. Following the loss, the team has been criticized harshly for not taking care of their fitness and putting up a poor display of skills except for Amir and Wahab. But this outrage was fueled up to a notch higher when a leaked video of Shoaib Malik, Sania Mirza and other Pakistani players eating out night before the match surfaced on the internet.
Read: Even Indians Are Admitting That They're No Match For Pakistan's Sense Of Humour After The INDvPAK Game!
Shoaib Malik along with his wife and other company was seen having dinner in a sheesha bar and Pakistanis couldn't help but ask why the cricketers were allowed to have a cheat meal and a night out few hours before the showdown. Some even associated Sarfaraz's famous yawn during the match with the outing, although we couldn't spot him in the video.
Amidst all this rage, Sania Mirza has taken to Twitter to tell her side of the story. According to the Indian tennis star and Shoaib Malik's wife, the person taking the video was told off when he was caught filming the group but he continued to violate their privacy, despite having a baby on board. Here's what she tweeted!
Responding to the leaked video of Shoaib Malik and other Pakistani players, Sania Mirza also justified the outing as just another basic meal that people are allowed to have regardless of losing or winning the match.
There's no way Pakistanis would have not reacted to the statement. Here's what they said.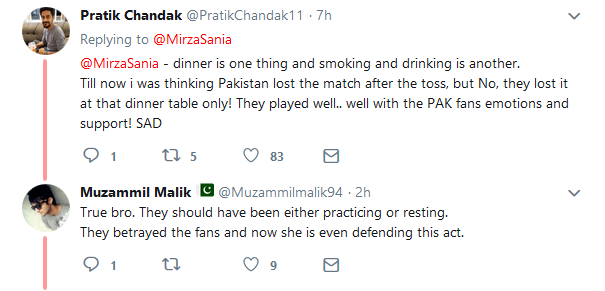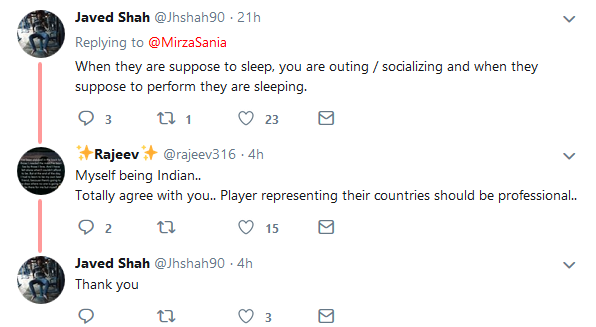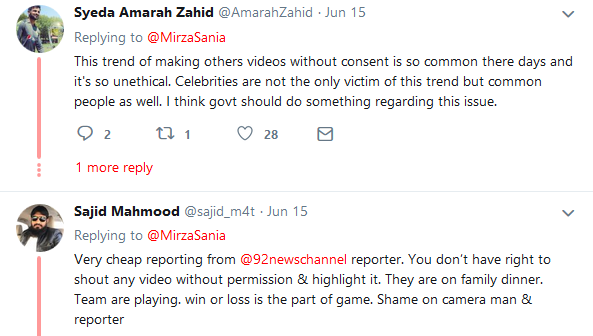 And if this was not enough, Veena Malik also jumped the bandwagon and added more fuel to the fire with the following tweet.
To this, Sania replied with a tirade of tweets! Take a look!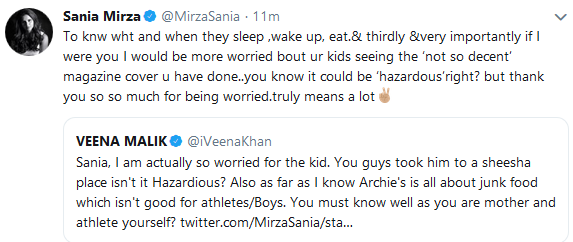 Sania Mirza is right in blasting the person who made the video for disrespecting her family's privacy. No one deserves that and so, we must condemn such acts at any cost. Moreover, she should not be held accountable for the indiscipline displayed by our boys. The Pakistani players should have known better!
Read: PakvsInd: The Dil Ro Raha Hai Mera Guy Has Gone Viral Once Again With A Heartbreaking Video & Pakistanis Can Totally Relate!
That said if the rumors are right and the boys were actually out late in the night gorging on junk food than it cannot be justified as just another dinner. Yes, people are allowed to dine out but not at the expense of their performance.
Had Shoaib Malik not gotten out without making a single run on the pitch, the nation had been nicer to him and wouldn't pay any heed to any such rumor. But in the light of Pakistan's embarrassing playout against India, it is only right to criticize the team for not taking care of their routine and fitness. PERIOD.
Read: AUSvPAK: People Are Having A Major Meltdown After Pakistan Loses To Australia & TBH, We Saw It Coming!