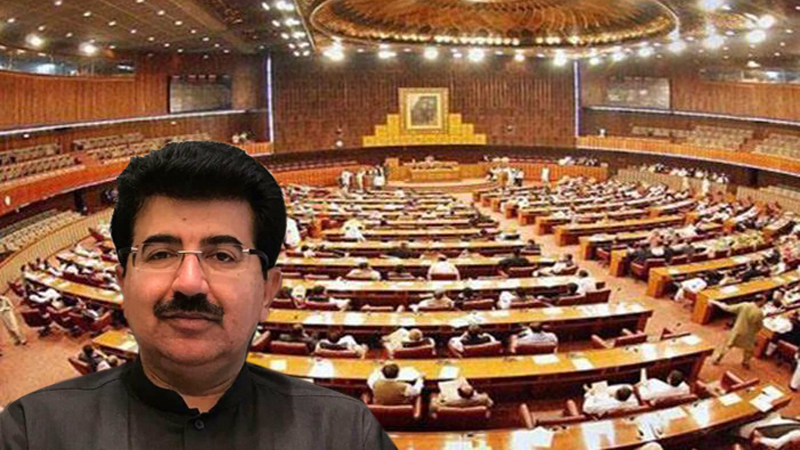 In what can only be termed as an (expected) up set, PML-N faced defeat in the elections for Chairman Senate despite having the most number of seats in the upper house. Pakistan Peoples Party played its cards very well, ensuring a win for Sadiq Sanjrani, the candidate backed by the PPP.
Read: 5 Highlights That Sum-up Pakistan's Senate Elections 2018
What makes Sanjrani's win rather novel is the fact that he has never before held a seat in either of the two houses. His political career has mostly revolved around serving as an administrative member in the teams of various eminent office bearers. For this reason, very little is known about the new, Honorable Chairman Senate.
We did some quick research to learn about Sadiq Sanjrani's career in politics and this is what we learnt.
Sanjrani Hails from a Politically Influential Family
The new Chairman Senate hails from the Sanjrani Baloch tribe. His father, Khan Muhammad Asif Sanjrani is among the leading tribal elders in Chaghai district and he currently serves as a member of the Chaghai District Council.
Read: Politicians Attacked With Ink And Shoes Before Nawaz Sharif And Khawaja Asif
His younger brother, Mir Muhammad Ejaz Sanjrani serves as a Coordinator to the Chief Minister of Balochistan. Another of his brothers, Raziq Sanjrani is a managing director at Saindak Metals Limited.
 He's Been Around Since 1998
Sadiq Sanjrani ventured into politics way back in 1998. However, he has never served as an elected candidate prior to his election as a senator. He has primarily remained part of the personal teams of high public officials in the past.
Sadiq Sanjrani Briefly Served as a Coordinator for Nawaz Sharif
Sanjrani started off his political career as a Coordinator in the team of then Prime Minister, Nawaz Sharif in 1998. His portfolio as the Coordinator was short-lived as Sharif was ousted in 1999 after the military takeover led by General Musharraf.
He has Worked with Both PML-N and PPP
In 2008 Sanjrani was appointed as the in-charge of Prime Minister Yousaf Raza Gillani's complaint cell. He held this position for the next five years.
Read: In A Rare Show Of Solidarity, PTI Condemns Ink Attack On Khawaja Asif
In 2013, Sanjrani moved his base back to Balochistan where he joined the team of then Chief Minister, Sanaullah Khan Zehri as his special assistant.
This way, he has served political leaders belonging to both PPP and PML-N.
Sanjrani is the First Chairman Senate to Hail from Balochistan
To date, eight individuals have held the position of Chairman Senate.
Of these, 2 have been from Khyber Pakhtunkhwa (i.e. Habibullah Khan, 1973 – 77 and Ghulam Ishaq Khan, 1985 – 88); one from Punjab (i.e. Wasim Sajjad 1991 – 97) and four from Sindh (i.e. Mohammad Mian Soomro, 2003 – 09; Farooq Naek, 2009 – 12; Nayyar Bukhari, 2012 – 15 and Raza Rabbani, 2015 – 18).
Thus, following his election as Chairman Senate on 12 March 2018, Sadiq Sanjrani became the first senator from Balochistan to lead the upper house.
He has a Long History of Working in the Natural Resources Sector
Apart from holding positions in the personal teams of high profile office bearers, Sanjrani has also worked extensively in various organizations in the mining and natural resources sector.
Read: My Vote Was For MQM, Now No More!
He has been the Chief Executive of his family's mining business, Sanjrani Mining Company.
He has also served as Director/Chairman H.R Committee in the National Industrial Parks Development & Management Company and The Hub Power Company (HUBCO).
Moreover, he has also served in the boards of Sui Southern Gas Company, Export Processing Zone Authority (EPZA) and Pakistan Bait-ul-Mal.
Sanjrani is the Youngest Chairman Senate
The position of Chairman Senate has been traditionally held by senior politicians often over 60 years of age.
At 39 years, Sadiq Sanjrani has become the youngest person to be elected as Chairman Senate in Pakistan.
Read: This Is How Women's Participation In The NA-154 By-Election Looked Like
Wasim Sajjad of PML-N had been the youngest Chairman Senate before Sanjrani, when he took oath in 1991 at the age of 47 years.
He Wants Justice to be Served in Balochistan
During an interview to Dawn, Sadiq Sanjrani termed himself as a "…simple man," who wants to serve the deprived people of Balochistan.