The absolute last thing the world needs right now is a new pandemic while COVID-19 is still playing havoc across the globe. And so, the news of another "pandemic potential" swine flu virus in pigs has sent chills down our spines.
In China, researchers have found a new type of swine flu virus in pigs that has the potential to cause a future pandemic.
According to a study in the US science journal Proceedings of the National Academy of Sciences (PNAS), a new strain of flu named G4 has been found in pigs. The study raises concerns that it could trigger a global outbreak as the virus can mutate further and can easily spread from person to person. The report read,
"It possesses all the essential hallmarks of being highly adapted to infect humans."
Also Read: Covid19: Dexamethasone Shows Breakthrough Results, Runs Short In Pakistani Markets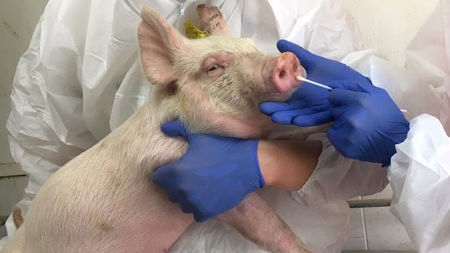 While this swine flu might not be an immediate threat, scientists stress that the situation needs to be monitored closely to prevent the disastrous effects of its potential outbreak.
The G4 virus, is genetically descended from the H1N1 swine flu that caused a global pandemic back in 2009. The new flu virus has now been found in pigs similar to the old one but with significant changes.
A look at the data analysed from the samples gathered from 2011 to 2018 shows evidence of the virus transmitting into people who worked in the slaughterhouse and the swine industry.
The theory suggests that the pandemic flu could occur at any time in the future. Hence, it is of utmost importance to start keeping a close eye on the situation and work on mitigation strategies beforehand, the authors of the report emphasized.