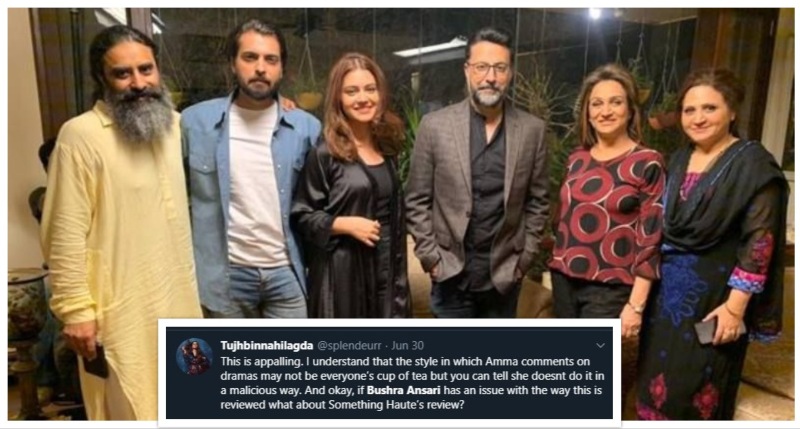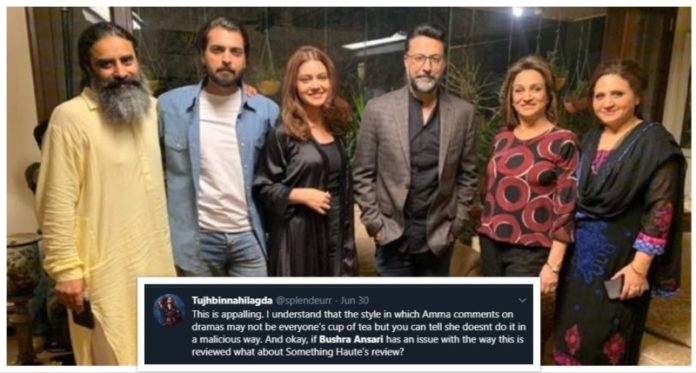 The new drama serial, Zebaish, written by and featuring Bushra Ansari has gathered a lot of criticism from the audience for a whole host of reasons. From the selection of the cast that mainly features Ansari's family members to the subpar acting of the leads, the drama has left her fans disappointed.
A few days ago Lubna Farya a.k.a Amma on Galaxy Lollywood's web show, Amma TV Aur Main reviewed the latest episode of Zebaish and mocked the artists for their poor performances.
Also Read: Zara Noor Abbas Is Facing Criticism For Supporting A Fairness Product
The scathing criticism did not sit well with the veteran actress who quickly sent out a mean-spirited post in response.
She went as far as to wish death upon the critics of her drama. She wrote,
They are the coronas in our lives… Allah will finish them InshAllah..
In a now deleted post, the comedian, singer and playwright viciously spoke ill of Amma calling her a "cheap low class person."
Galaxy Lollywood was quick to take notice stating that Amma, being housewife who loves watching dramas represents the "majority of our drama viewers."
The digital media publication also asked the 64-year-old actress to take criticism in a stride rather than taking jibes at her critics.
The whole episode has now blown out of proportion with literally the entire drama-watching population of the country weighing in.
The awam refuses to give-up its right to critique…
No ma'am! The audiences will not bow down…!
She is a legend. We have grown-up loving her. The disappointment is REAL.
An apology is in order…but will the star make one?
Have something to add? Share your views in the comments below!