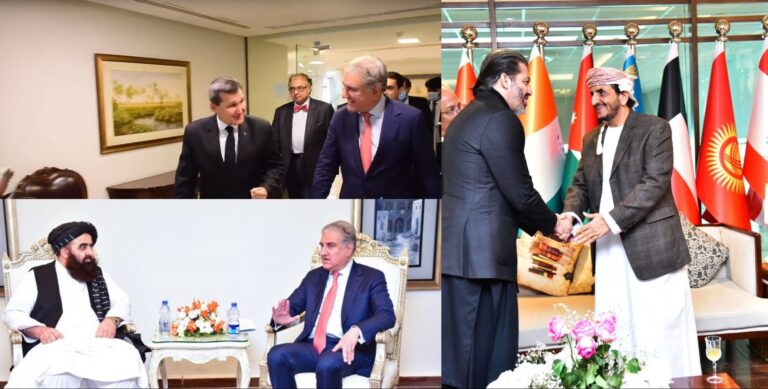 Foreign delegations from across the Muslim world began arriving in Pakistan ahead of the Organisation of Islamic Cooperation's (OIC) Summit. The 17th extraordinary session of the OIC Council of Foreign Ministers, due to be held on Sunday, 19th December, has been called to reach a consensus on measures to improve the situation in Afghanistan.
During his talk with the media, Foreign Minister Shah Mahmood Qureshi expressed his confidence in the OIC's ability to reach a consensus on the Afghan situation during the moot. He said he was "very happy" that Pakistan had begun to receive support for its stance to find a swift solution to the fluid situation in neighboring Afghanistan before it condensed into a humanitarian crisis and economic collapse impacting the entire region.
Afghanistan's Acting Foreign Minister Amir Khan Muttaqi who arrived in Islamabad on Saturday was received by Minister of State for Parliamentary Affairs Ali Mohammad Khan.
The Afghan FM's arrival was followed-up with a meeting with his Pakistani counterpart, Shah Mahmood Qureshi.
During this meeting, the Pakistani FM expressed his government's strong resolve to do the "utmost to provide humanitarian assistance to the Afghan brothers."
"The extraordinary meeting of the OIC Council of Foreign Ministers is part of the series of efforts being made by Pakistan in this regard," he added.
FM Qureshi also stressed that an Afgan government that heeded basic human rights, especially women's rights, would be in the interest of the Afghan government.
Read: Afghan Female Football Team Thanked PM Imran Khan As It Fled Afghanistan To Seek Asylum In Pakistan
MOS for Parliamentary Affairs Ali Muhammad Khan also received the Foreign Secretary of The Sultanate of Oman Al Sheikh Khalifa Issa Al Harthy.
The Foreign Minister of Turkmenistan Rashid Mirodov arrived at the Ministry of Foreign Affairs in Islamabad to hold a meeting with FM Shah Mahmood Qureshi on the sidelines of the OIC Summit.
During the meeting, issues of mutual interest including bilateral relations and the regional situation were discussed.
Speaking on the occasion, Qureshi expressed Pakistan's desire to forge "lasting and fruitful relations with Central Asian states." The Foreign Minister stressed the need for joint efforts to enhance bilateral trade through the promotion of ties. "We will be happy to give Turkmenistan access to Gwadar and Karachi ports for trade links with the Middle East, Africa."