Aamir Liaquat is under fire for using an image of a Hindu deity to take a jab at Maryam Nawaz.
PTI MNA from Karachi and religious scholar, Aamir Liaquat Husain has been severely criticized for his tweet mocking Maryam Nawaz. Husain used the screenshot of a quote from Nawaz's address at Daska, that said,  "They (government) will now see a second version (doosra roop) of me," and posted it alongside an image of a Hindu goddess referring it to PML-N leader's doosra roop.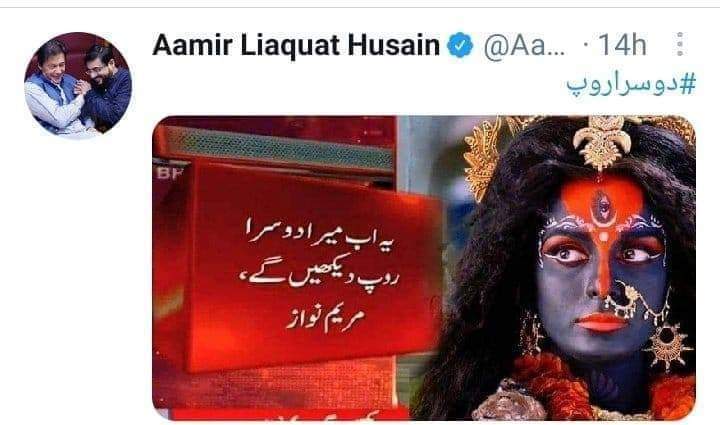 This is not the first time that Husain has been criticized for his unfiltered speech. This time around PTI members and netizens from the Hindu community have called out the religious scholar for his distasteful comments, hurting the sentiments of the religious minority.
Also Read: Politics Aside, But Aamir Liaquat & Veena Malik's Sexist Tweets About Maryam Nawaz Are Plain Distasteful
PTI MNA and chief of the Pakistan Hindu Council, Dr. Ramesh Kumar Vankwani lambasted Husain over his tweet and told him to take it down immediately.
"Strongly condemned this shameful act by someone who claims to be a religious scholar also but doesn't know respect to other religions. Delete this tweet immediately otherwise we reserve right to demand strict action under the Blasphemy Act and protest across the country," he tweeted.
Another PTI MNA, Lal Malhi also condemned the act by Aamir Liaquat for using an image of a Hindu deity to mock an opposition leader. He even termed the deed as "blasphemous."
"Strongly condemn the blasphemous act of @AamirLiaquat and appeal @ImranKhanPTI to take notice of this immoral act. No religion including Islam permits him to do such illogical acts."
He even said that no religion allows any person to berate another religion. Malhi tweeted, "This act exposes #دوسراروپ of Amir Liaquat."
After strong criticism on the internet, Liaquat deleted his tweet and apologized for the insensitive act.
Have something else to add to this? Write in the comments.