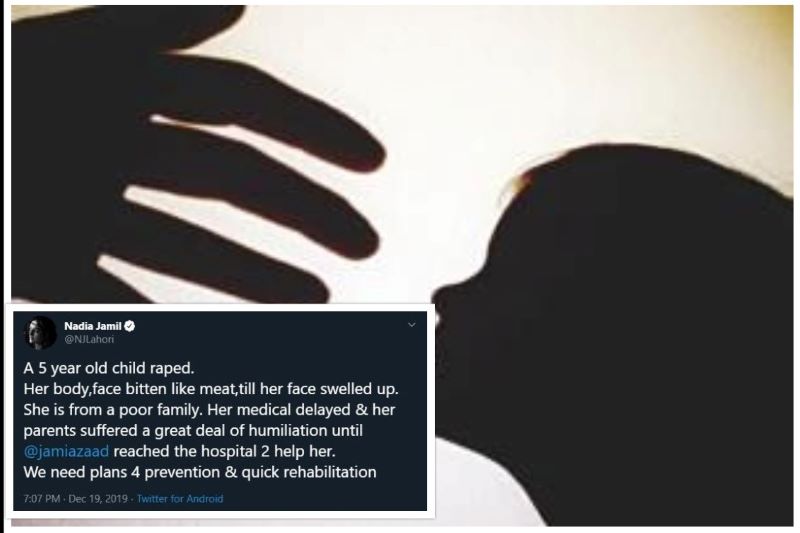 Every other day Pakistan witnesses horrifying cases of child sexual abuse at the hands of monstrous predators and with these increasing number of cases the victims and their families are left with nothing but unprovoked misery.
A 5 year old Bengali girl was raped and brutally bitten near Juna Market in Karachi. The victim's family rushed their daughter to police station where the case was registered but they had to run from pillar to post for her medical examination. There was no female medico-legal officer (MLO) available to examine the child.
The family of the victim was subjected to humiliation at the time when the state failed to provide safety to their child. It goes beyond imagination what the child and her family went through running from one hospital to the other just to get her examined after she had already borne the brunt of such a horrific trauma!
It is so heart-wrenching that poor people can't have access to basic facilities until an influential person jumps in to their rescue.
Director, Jami Raza reached the hospital to help the family and shared harrowing details of the situation.
In a video message, he went on to share that the perpetrators were "joking" about the whole incident publicly.
He also shared that the 5 year old immigrant belonged to a Bengali family living in Karachi and were scared of protesting the state's inability for their daughter to have a medical test in time because of the fear of deportation.
To say the least, it is enraging to know that the monsters who had the audacity to make fun of the victim in public are still at large, threatening the safety of scores of other children.
And all this while the victim and her family continue to suffer!
Read: A Minor Girl Was Murdered After Being Raped In Islamabad & Pakistanis Are Demanding #JusticeForFarishta!
People are calling out the authorities to take action against these monsters without further ado.
Read: Nimrita Kumari Murder Case: Pakistanis Demand Blood As Final Postmortem Report Confirms Rape
We wonder when will the state finally live up to its responsibility of providing basic security or even the right to a dignified medical examination to at least the minor survivors of sexual violence?!
It is now our responsibility as citizens to support the 5 year old Bengali immigrant child who was brutally raped in Karachi and demand justice for the victim and her family.