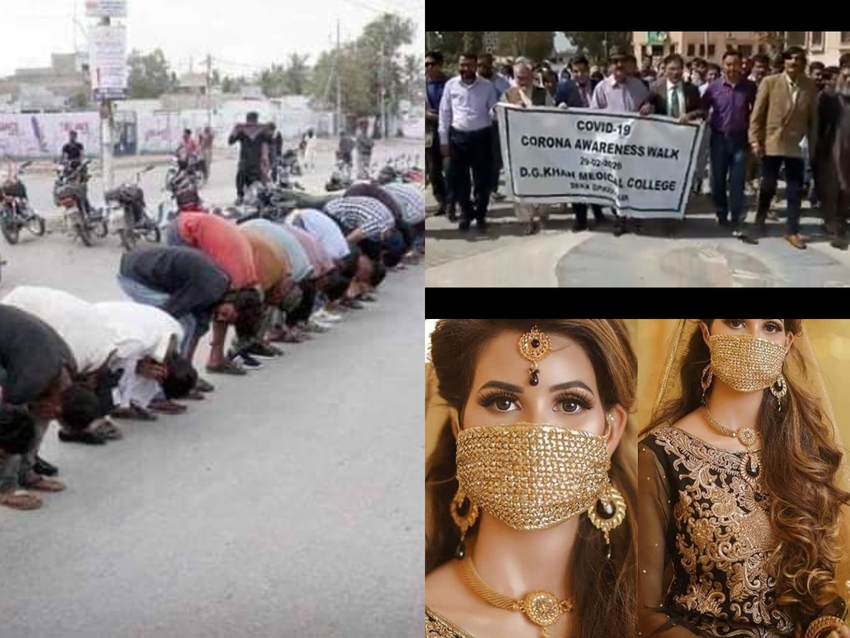 To control the rapid spread of the novel coronavirus in the country, several cities have been put into a lockdown. But people are still not practising social distancing properly.
Twitterati shared 28 incidents where Pakistanis were doing the exact opposite of social distancing!
1. Two COVID-19 patients left the quarantine facility to offer jumma prayer endangering the lives of countless Pakistanis.
2. Despite a rapid spike in the number of cases, some people are still hanging out as usual.
3. Justice Muhammad Qasim Khan on Thursday took oath as the 50th chief justice of the Lahore High Court (LHC) in a ceremony held at Governor House.
4. Pakistan Tehreek-e-Insaf Central Punjab Chief Minister Ijaz Mohammad Chaudhry inaugurated the construction of a road being surrounded by several people.
5. People are still going to mosques to offer their prayers despite several warnings to avoid crowded places.
6. This man complains about the mosque being closed while others prepare for the congregation outside.
7. While there is evidence of the virus spreading from religious gatherings, Tableeghi Jamaat members continue to gather crowds.
8. People are marching in crowds to commemorate the upcoming death anniversary of Muhammad Panah.
9. In Jhelum, people are gathering in grounds and playing different sports instead of social distancing.
10. People are paying no heed to the warnings by the authorities and continue to live their lives as if everything is normal.
11. Some people in Sukkur visited their friend who is positive for coronavirus and took selfies.
12. People are making videos while the medical staff escorts the suspected patient of coronavirus.
13. A few days ago, D.G.Khan Medical college conducted an "awareness walk" for COVID-19.
14. In some places, people are celebrating "basant" as an activity to pass their free time.
15. Raja Bazar in Rawalpindi is crowded as usual.
16. People in Peshawar are socializing in local parks.
17. This guy reported that in the outskirts of Mardan everything is going on as normal routine.
18. In Sukkur, pilgrims broke out of the quarantine facility putting the lives of everyone in danger.
19. Eateries and shopping malls in some places are crowded as usual.
20. Faisal Mosque is jam packed as people from different cities went to offer Jumma prayer.
21. Banks are full of people as the deadly virus continues to spread rapidly.
22. Karachi Cantt station is brimming with people after the government decided to put the Sindh province under lockdown.
23. In Karachi, these kids were spotted enjoying a donkey cart race at Maripoor road.
24. While people are donating essentials to help those in need, they are neglecting the precautionary measures to avoid the spread.
25. People continue to arrange functions risking the lives of the fellow citizens.
26. And bridal masks have already started to go viral on social media.
27. While the cities are being put into lockdown, people are actually going out to witness it.
28. And are being punished by the authorities.
Have some more incidents to add to this list? Share in the comments below!