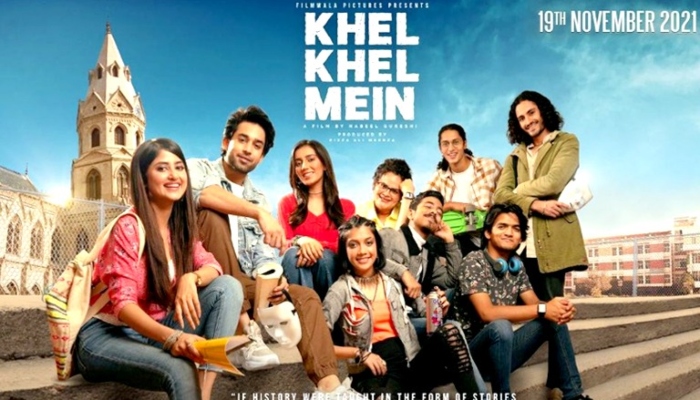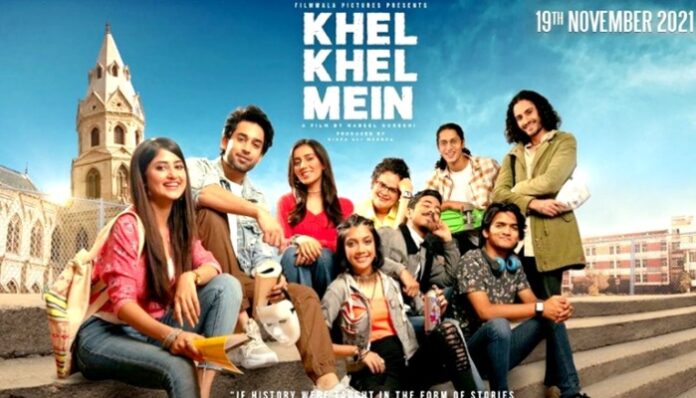 Nabeel Quereshi and Fizza Mirza are not merely among the few good filmmakers in Pakistan, but unlike most of their contemporaries, they are also skillfully fast. When Filmwala announces a project, one knows it will see the light of the day, and more importantly, it would be worth the cine goers' while. So, when the trailer of Khel Khel Mein went live with a November release date, it made sense to finally bid farewell to the pandemic-triggered unholy break from the big screen and head to the nearest theater.
Read: After "Quaid-E-Azam Zindabad" Nabeel Qureshi Announces "Fatman" With Ahmed Ali Butt
But did the excitement that the trailer induced continue to linger once the curtain had fallen?
As much as the huge Filmwala fan in me wants to respond with an unequivocal, "Yes!" the actual answer comes with a mixed bag of feelings.
Without giving away too much, Khel Khel Mein centers around a university frosh, played by Sajal Ali who, driven by her quest to heal the scars of 1971 convinces her peers to stage a Fall-of-Dhaka themed play at a competition in – you probably didn't see this coming – Dhaka. What follows is an earnest, mostly playful (but not belittling) attempt to revisit perhaps the most painful chapter in the history shared by Pakistan and Bangladesh. While doing so, the movie draws parallels between what went down in East Pakistan more than half a century ago and present-day Balochistan. Despite maintaining an overall colorful, light-hearted demeanor, Khel Khel Mein is a movie with a mission: there is a narrative it wants to pass on and every frame remains true to this undertaking.
The effort, although it can't be written off as entirely futile, could have been oodles better had the script not been driven by a singular urge to demonize the dushman. Every character representing India, save one Sardar ji (big surprise!) is wholly shown to be devoid of the most basic form of human decency. This is perhaps the film's biggest flaw. Instead of conceiving Khel Khel Mein as a response to the repulsive, Uri, it would have served the filmmakers better to imagine it in the same universe as Meghna Gulzar's Raazi, where Indians, Pakistanis, and Bengalis were all merely humans, each battling their own demons, and doing the best that they could to live up to whatever they were taught to believe was the good fight.
Read: These 7 Pakistani Movies Are Worth Looking Forward To During The Year 2021
Khel Khel Mein positions itself to retell the tale of 1971 in an attempt to heal the festering wounds that continue to blot Pakistan's historical standing, both outside and within. And while the movie doesn't completely fall short on that account, it does take a lot more than the "Based on true events," mantra to award credibility to first-person accounts narrated by fictional characters. The healing can also not begin without shouldering any responsibility for a war – which, even if it was imposed by the enemy – was a direct result of criminally negligent governance.
On the upside, true to the Filmwala brand, Nabeel Qureshi once again delivers a 70mm offering that's tightly packed, fast-paced, and doesn't in the least drag. The director's brilliance lies in making his audience chuckle throughout the movie's length while tackling a subject that is anything but gleeful. How the movie attempted to document and preserve Pakistani pop culture references including "Mera jism meri marzi," without passing judgment was refreshing. On the flip side, given that we have a sizable Hindu population in Pakistan, the "beef" jibes were distasteful and served no purpose at all. The "chaye joke" did pack a punch in the beginning but was overdone to the point of exhaustion by the time the credits rolled.
Quiz: How Many Of These Pakistani Movies Can You Get Right Just By Looking At One Image?
The cinematography is tackled very well and the choreographer deserves a thumbs up. The score is not bad at all. Hum laye hain toofan se kashti nikal kar, left me with some major goosebumps and I did leave the theater humming Nayi soch, so Shuja Haider certainly deserves an honorable mention. A little bit of Faiz would not have hurt though.
In a nutshell, the film attempts to oversimplify a very complex and gory chapter in the subcontinent's history by squarely placing the blame conveniently on the enemy while not acknowledging, even in passing, Pakistan's own contributions to the mess that was the Fall of Dhaka. And so, while its heart might be in the right place, Khel Khel Mein springs from a one-track thought process, which might work well for domestic consumption but is unlikely to win the Pakistani narrative any favors beyond its borders.