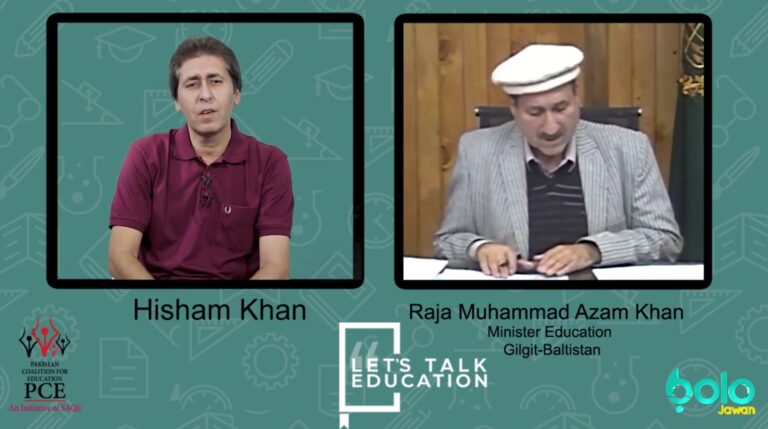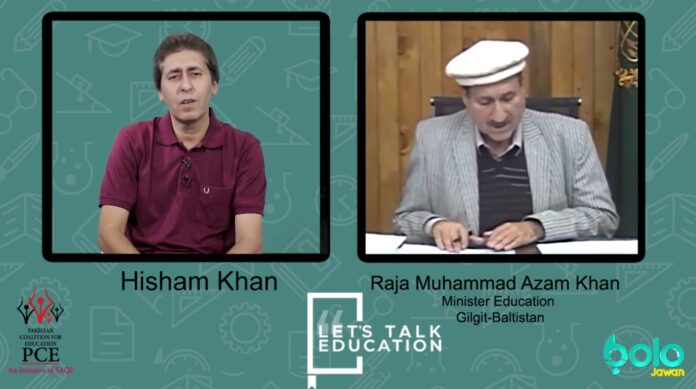 In the latest episode of "Let's Talk Education," we interviewed Raja Muhammad Azam Khan, Minister for Education, Gilgit-Baltistan. During the course of this conversation he spoke at length about his government's plans to increase the literacy rate of the region and steps to allow girls greater access to schools.
In the 8th episode of Let's Talk Education, Raja Muhammad Azam Khan explained that his government aimed to bring the literacy rate of Gilgit-Baltistan (GB) to 76% by 2030. His plans include steps towards enrolling a greater number of children during each academic cycle, ensuring the provision of school buildings and related educational infrastructure in each district of GB, and using digital learning tools to bridge the literacy gap.
The podcast, moderated by Hisham Khan is available in two different parts on Bolo Jawan's YouTube and Facebook handles.
Children Will Be Given Stipends
Raja Azam Khan pointed out that while there have been more enrolments in the past ten years, Gilgit-Baltistan still has a dropout rate of 16%. To further improve the situation, he hopes to focus on those students who are out of school, particularly girls. His ministry is keen on providing stipends of Rs.1,200 to female students to encourage greater enrolment and retention. The administration has already allocated money for this purpose.
Provision Of Transportation
The Education Minister further explained that most schools in the area are far away from where students live. This discourages them and their families from pursuing education, and so, to resolve the issue he said, "We are going to provide buses and other modes of transportation so even children from far-off areas can attend schools regularly."
Provide Schools To Every District
The concerned ministry also intends to ensure that every district in Gilgit-Baltistan has a school. Explaining the plan further he said, "We are planning on bringing at least one big public school to each district, with buildings that will block out the cold weather. We also wish to ensure adequate facilities like electricity and clean drinking water."
Moreover, as per the plan each school will have at least 6 classrooms and 4 washrooms with good water facilities. Additionally, in order to facilitate children living with disabilities the required equipment, as well as other facilities such as ramps, will be ensured in schools.
Improve The Teacher-Student Ratio
The ratio of teachers and students in GB currently stands at 1:22. The Minister hopes to further improve this ratio so that every child receives adequate attention while in the classroom. He further elaborated that his department was on board to implement these reforms and he had received encouragement even from the Prime Minister himself.
Expanding The GB Education Strategy, 2015-2030
Confirming the status of Gilgit-Baltistan Education Strategy, 2015-2030 the Education Minister said, "The Education Strategy is still active and guiding our plans to improve the literacy rate. We are keen on providing salary budgets, transportation budgets, and stipends to students. We update the strategy every 3 years."
Providing Lessons During The Pandemic
The pandemic brought fresh challenges to Gilgit-Baltistan's education system owing to prolonged school closures and a lack of internet access. The Education Minister admitted that the task to mitigate the situation had been an uphill battle but added that things had begun to swiftly improve over the last few months. "(During school closures) we launched education shows on radio. Our teachers and staff worked hard to go door-to-door to provide lessons and collect homework from the students. We did our best to curtail learning losses and ensure that students' learning process did not come to a complete halt."
Thoughts About The Education Development Budget
When asked about the education development budget, the Education Minister promised an increase in the next fiscal year. "At present, we are working to make the best use of the available budget."
Future Plans
The ministry also plans to improve university-level education in the region, build medical colleges and open technical and vocational schools. For this purpose, the concerned department is working with various NGOs to conduct teacher-training programs, some of which are ongoing.
Let's Talk Education is produced in collaboration with Pakistan Coalition for Education (PCE).