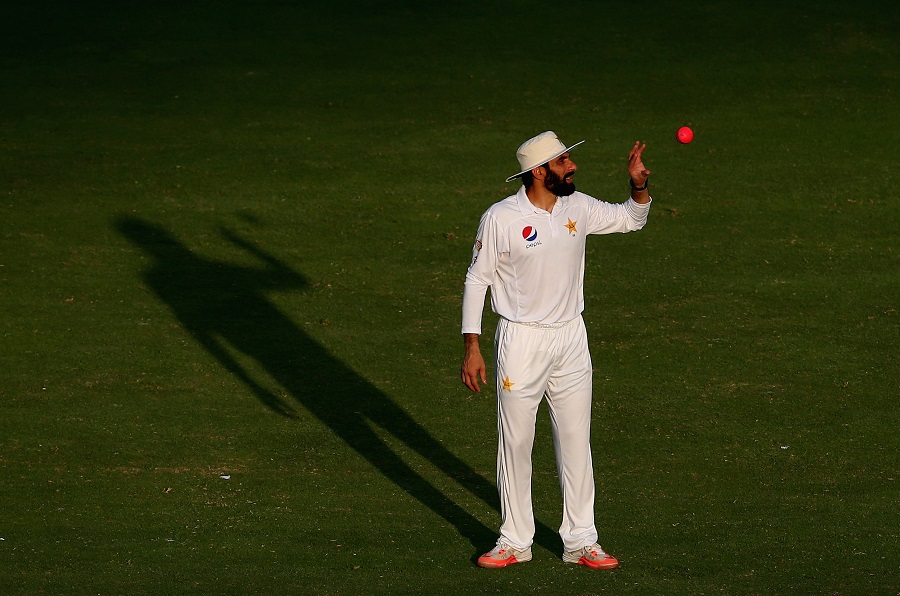 Misbah has led the boys in green for a while now. He has always had his own way of doing things and owing to his defensive mindset he has had to face criticism from different quarters every now and then. Still, Pakistan has been extremely successful under his leadership and therefore, any flaw in his strategy has mattered little both to the fans and bosses at Pakistan Cricket Board (PCB) headquarters.
For most part during the last few years Pakistan has played most of its cricket in Asian conditions. Even in England the wickets were somewhat flat and allowed the skipper and his team to feel at home. However, Pakistan has been terrible whenever they have had seaming conditions to deal with. They were blown away the last time they toured South Africa for a Test series and are still recovering from a disastrous tour of New Zealand.
Since the national team now faces a similar challenge of competing with Australia in seaming conditions, it is important for Misbah to venture beyond his comfort zone and revisit his strategy. Here is a look at the 3 things that Misbah will have to do differently in order to achieve positive results against a young but determined Aussie side.
3. Look for Runs
It is no secret that in Asian conditions the strategy for Misbah and his men has been to survive the initial sessions and then grind the opposition when they are tired. However, in seaming conditions there is no point in blocking the ball for hours because the probability of receiving a playable delivery is much higher than it is on flat tracks.
Therefore, to keep the scoreboard moving Misbah and his men must look to make use of as many bad balls as possible. Moreover, to ensure a reasonable total they must also rotate the strike with quick singles and doubles.
"You bowl-I block" strategy back fired in New Zealand and is unlikely to work in Australia.
2. Aggressive Field Settings
Misbah's field positioning suggests that rather than buying a wicket or two, the skipper prefers to frustrate a given batting unit into committing blunders. The strategy makes a lot of sense in Asian conditions where it is difficult to make inroads and where your own batsman can easily pile up huge totals.
However, in seaming conditions Pakistani batsmen are not as fluent and thus, it becomes important for the bowlers to bowl out the opposition cheaply. Therefore, the captain really needs to be thinking of wickets and not how he is going to pin down the batsmen and save runs. To enhance the probability of a breakthrough it would be important for Misbah to place his fielders in an aggressive manner and take the gamble of leaking a few runs in the hope of buying a few quick wickets. Otherwise, his age old strategy might as well allow Aussie boys to run away with a decent total and that too by playing risk free cricket.
1. Allow Bowlers to Attack
During the last day of the first Test match against the West Indies in UAE RL Chase hit Yasir Shah for a boundary. The commentators thought that Yasir should be happy because the batsman had taken a huge risk and that a similar shot or two might result in a wicket for the leg spinner. Misbah however, was furious and as always seemed in no mood to leak runs. Nevertheless, in the next ball Chase tried his luck with a similar shot and lost his wicket.
Despite a phenomenal record, Misbah has not really done a good job while making use of his bowling reserves and owing to his negative mindset the current lot of strike bowlers now operates with a method that is similar to a stock bowler.
For a series win in Australia Pakistani bowlers will have to run through the defenses of the Aussie batsmen. Therefore, Misbah needs to encourage his bowlers to search for some quick wickets and not mind a few runs in the process.
Whether or not the Pakistani bowlers are able to shorten their stay in the middle should determine the outcome of the series. The skipper hence, needs to be mindful of the fact that the Australian boys are a lot more fit than the Pakistani cricketers and there is no way Pakistan is going to beat them without reducing their own stay in the field, particularly during the initial phase of each game.