Like last year, this year too, there's news floating on social media that Zulfi Bukhari visited Israel and again, like last year, he's refuted the claims, asking the media agencies, why wasn't he kept in the loop when all of this was happening?
The Middle East Monitor news agency incorrectly reported in November last year that PM Imran Khan's aide on overseas Pakistanis, Zulfi Bukhari had visited Israel last month. The agency eventually had to retract and apologize for putting up a misleading statement.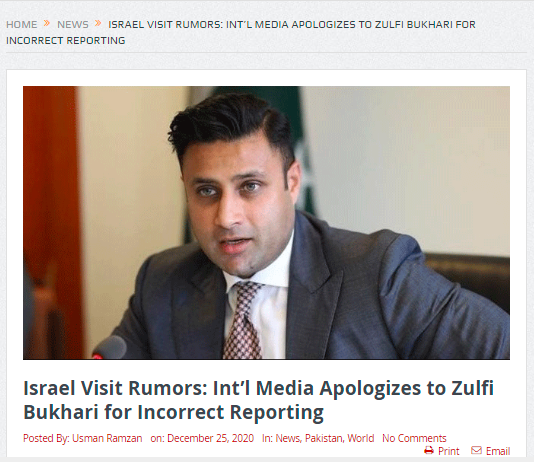 According to the Correspondent, the rumors started at the time when Noor Dahri, founder of the British think tank "Islamic Theology of Counter Terrorism" claimed that a delegation of Pakistan went to Israel, saying that an unnamed man was with them. Following this, an Israeli news agency reported that the man had a British passport, which led to a flurry of rumors stating that the man was Bukhari.
Read: Hunza School Kids Dancing To A Shina Song Is The Best Thing You'll See On The Internet Today!
The issue has made headlines again after an Israeli newspaper, Israel Hayom reported about the alleged visit, saying that there was an unnamed man present with the delegation.
Moving on, Avi Scharf of Israel's Haaretz newspaper tweeted that according to the report, PM Imran's advisor Zulfi Bukhari traveled to Israel last November to meet Mossad spy agency chief Yossi Cohen.
As the news started making rounds, Dr Arslan Khalid, focal person to PM Imran on digital media, slammed the rumors, asking the international media organizations to stop being so predictable and boring.
As the unnamed person's identity was never unraveled, along with Zulfi Bukhari, Pakistan's National Security Adviser (NSA) Dr Moeed Yusuf was also dragged into the mess. He immediately took to Twitter to categorically deny all the claims.
Moving forward, he reaffirmed PM Imran's stance on the Israel-Palestine conflict saying:
Have something else to add to this? Write in the comments.