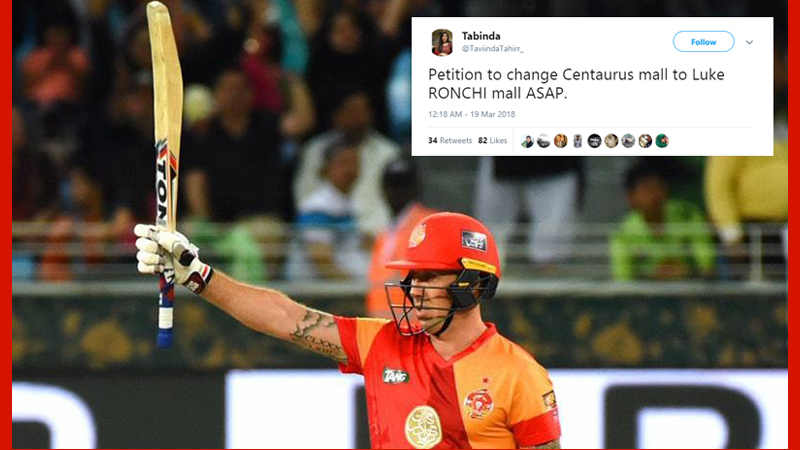 Luke Ronchi, while representing Islamabad United in Pakistan Super League (PSL) during the qualifier scored 94 of only 39 balls against the Karachi Kings. As Ronchi powers Islamabad United to the PSL final that is scheduled to be played in Karachi on the 25th of March, 2018, Twitter remains in awe.
Read: Twitter Goes Bonkers After Lahore Qalandars And Karachi Kings' Dramatic Match Last Night
The retired Kiwi wicket keeper batsman made mockery of the Kings bowling attack and hence, his innings made way for some very interesting memes on twitter. Here is a look at some of them.
First, a look at how Ronchi scored his runs during an innings that also broke the record for the fastest PSL 50.
Luke Ronchi 94* (39)

44.14.1.4.624464..6611.111214441141.614

Innings of the season?https://t.co/GVFjT6iwWX #IUvKK #PSL2018

— ESPNcricinfo (@ESPNcricinfo) March 18, 2018
Fastest 50 of #PSL history by Luke Ronchi in just 19 balls, what a player he is 👏👏 pic.twitter.com/adwZuj3zfb

— AH (@Ahtweeted) March 18, 2018
Read: Imran Khan Dipped Pizza In Chai And Twitter Can't Keep It Together
This fan clearly got excited with what she witnessed!
Petition to change Centaurus mall to Luke RONCHI mall ASAP.

— Tabinda (@TabindaTahiir) March 18, 2018
An explanation of the Ronchi innings from a Tom and Jerry fan!
https://twitter.com/iFighterPilot/status/975444349805834241
These fans were evidently thinking about politics as well while watching the game!
Karachi kings talking to Luke Ronchi be like pic.twitter.com/alEl84OAjm

— Basit. 🇵🇸 (@basit__khn) March 18, 2018
https://twitter.com/AyeshaaMalik1/status/975457906811457538
Karachities after luke ronchi performance.. 😂😂😂 #PSL2018 #KKvIU #Playoffs2018 pic.twitter.com/VH0TSfQXin

— Salman Rafiq (@SAlmanRC07) March 18, 2018
Lahoris to Luke Ronchi : pic.twitter.com/Cb2ioN3CD2

— Pendu production (@penduProduction) March 18, 2018
Read: These 3 Mickey Arthur Decisions Proved Right During PSL 3!
A night where Ronchi became a hero for some, a monster for others!
#IUvKK #KKvIU
Luke ronchi for other people
Vs
Luke ronchi for karachi people pic.twitter.com/SKhHlX8GtB

— Momena Aamir🎸 (@MomenaAamir) March 18, 2018
The heartbreak that was for the Kings!
To know exactly the extent of humiliation Karachi Kings faced tonight, here are a few stats:

Team 50 – 3rd Fastest in PSL
Team 100 – Fastest in PSL
Team 150 – Fastest in PSL
Luke Ronchi's 50 – Fastest in PSL
Islamabad's Chase – Fastest in terms of run-rate in PSL#IUvKK #PSL2018

— Israr Ahmed Hashmi (@IamIsrarHashmi) March 18, 2018
https://twitter.com/psl_troll/status/975448951011905536
Read: 3 Reasons Why Multan Sultans Couldn't Sustain The Momentum In PSL 3
Kings sure looked clueless like the man in this meme!
Luke Ronchi to Karachi kings. pic.twitter.com/wuyIlPVsUH

— Sir Saith Abdullah (@SaithAbdullah99) March 18, 2018
When a fan pleaded mercy!
Come on Luke Ronchi, These men have families. #IUvKK #KKvIU #PSL2018

— Abdul Rehman Javed (@arjaved) March 18, 2018
A final meme that pretty much sums up the entire story and explains how the Kings' fans felt after the game last night!
#KarachiKings Now 😂😂#IUvKK #KKvIU #PTIKarachiCampaign Luke Ronchi Sami pic.twitter.com/Wb19ZyXlUP

— Zain Syed (@zainsyedpak) March 18, 2018
 Read: 4 Times When Wicket Celebrations Became Memes And Controversial In PSL 3