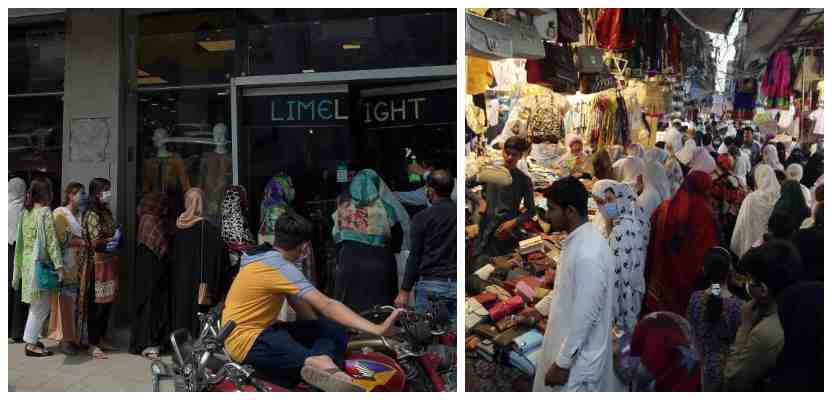 The government of Pakistan partially lifted the lockdown this week, allowing markets to re-open after almost two months. The decision came two weeks ahead of Eid-ul-Fitr.
Not very unexpectedly, people have thronged markets violating the coronavirus SOPs.
Visuals from different cities are pouring in exhibiting large crowds thronging the markets for eid shopping amid the coronavirus outbreak.
And while concerned citizens and the authorities are worried at the sight of the crowds, shopkeepers are complaining that the prolonged lockdown has affected the purchasing power of the people resulting in fewer customers for the occasion.
The lockdown was lifted to facilitate the daily wager community and allow people to shop prior to Eid.
Despite repeated calls being made by government officials, people are paying no heed to social distancing protocols and stepping into crowded places without wearing masks.
In short, Pakistanis have taken it upon themselves to defy two of the most essential protocols in public places to curb the spread of COVID-19.
Read: Dastak Na Do: Faisal Qureshi & Nadeem Baig Just Made A Drama On Coronavirus & You Gotta Watch!
Meanwhile, the security teams continue to iterate the hazardous effects that the negligence could lead to.
Some shoppers were even accompanied by their children amid the coronavirus threat.
The government has already warned the citizens that the lockdown will be reimposed if the SOPs aren't followed properly.
What are your thoughts on people flooding markets for Eid shopping amid the coronavirus outbreak. Share your views in the comments below!