On Tuesday, Cardiovascular Research journal published a new research that estimated that about 15% of deaths worldwide from coronavirus could be attributed to long-term exposure to air pollution.
The research from German and Cypriot experts analysed health and disease data from the United States and China relating to air pollution, COVID-19 and SARS.
The authors then combined this with satellite data of global exposure to microscopic particles as well as ground-based pollution monitoring networks, to calculate the extent to which air pollution could be blamed for COVID-19 deaths.
Also Read: Larry Summers Gave Pakistan's COVID-19 Response A Thumbs-Up & Now People Are Trolling PTI's Critics
Researchers, including those from Max Planck Institute for Chemistry, Germany, found that in Europe the proportion of coronavirus deaths linked to air pollution was about 19%, in North America it was 17%, and in East Asia about 27%.
Their estimate suggests that more than 6,100 coronavirus deaths in Britain could be attributed to air pollution. In the US that figure is around 40,000.
Co-author of the paper Thomas Munzel said:
If both long-term exposure to air pollution and infection with the Covid-19 virus come together then we have an adverse effect on health, particularly with respect to the heart and blood vessels.
While air pollution could not be solely held responsible for coronavirus deaths, the data shows its huge impact hence cannot be ruled out.
Also Read: Millions Of Pakistani Girls Might Not Return To Schools After The Pandemic
Previous researches had shown how air pollution from exhaust fumes and factories takes two years off the life expectancy of human beings on Earth.
Coronavirus cases in Pakistan have also been on the rise again. And considering the new study, Faisalabad, Lahore and Raiwind are at high risk with "very unhealthy" AQI.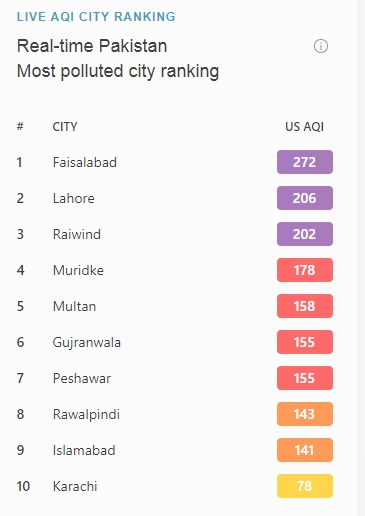 More than 1.1 million people worldwide have died from COVID-19 since the start of the pandemic, according to data from the Johns Hopkins University.
The authors stressed that the pandemic could come to an end with a vaccination but there is no vaccination for air pollution. Cities have to reduce their emissions by transitioning to renewable and clean energy sources.
Have something else to add this story? Share in the comments below!