Seasoned model turned entrepreneur, Nadia Hussain, had a rift with the veteran make-up artist, Nabila over a make-up palette launch yesterday.
Read: Shoaib Akhtar Challenges Fahad Mustafa To A Face-off After His Practice In Nets
Hussain took to Instagram to share a screenshot of her personal chat with the make-up guru, where she had accused the model of plagiarism.
Nadia has recently launched an on-the-go make-up product for her cosmetic line, which is an all-in-one make-up palette. You can use it on your car rides for touch up and just loosely fix your make-up, and is pretty handy too.
The product seemed to have hit a nerve with Nabila as she messaged Hussain on her personal number saying, "Don't you have a brain of your own?" By this, she referred to how Nadia had introduced something similar to her Zero make-up palette, which has been in the market for quite some time now.
Things took a turn for the worse as the diva did not hold back from putting her foot down and reply back to the Mua's belittling remarks.
Nadia texted back,
Nadia didn't just stop there, she paired up the screenshot with a flared up caption since she just couldn't stand the criticism coming her way.
To avoid social media backlash, Nadia Hussain shared a screen recording of her conversations with Nabila, so that no one could falsely accuse her of doctoring the images and making stuff up.
The make-up guru never replied back to the model, but she's been subtly throwing shade at Hussain in her Instagram stories.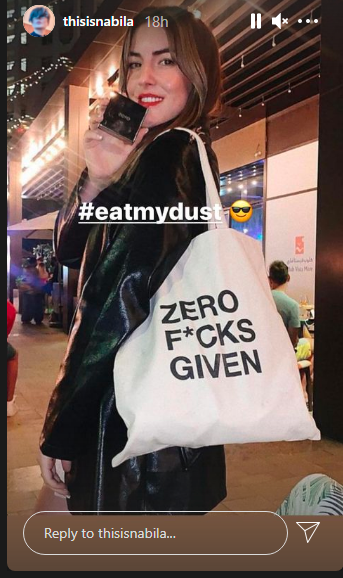 High-time both the celebs grow up and sort out their mess without taking it to social media.
Have something else to add to this? Write in the comments.