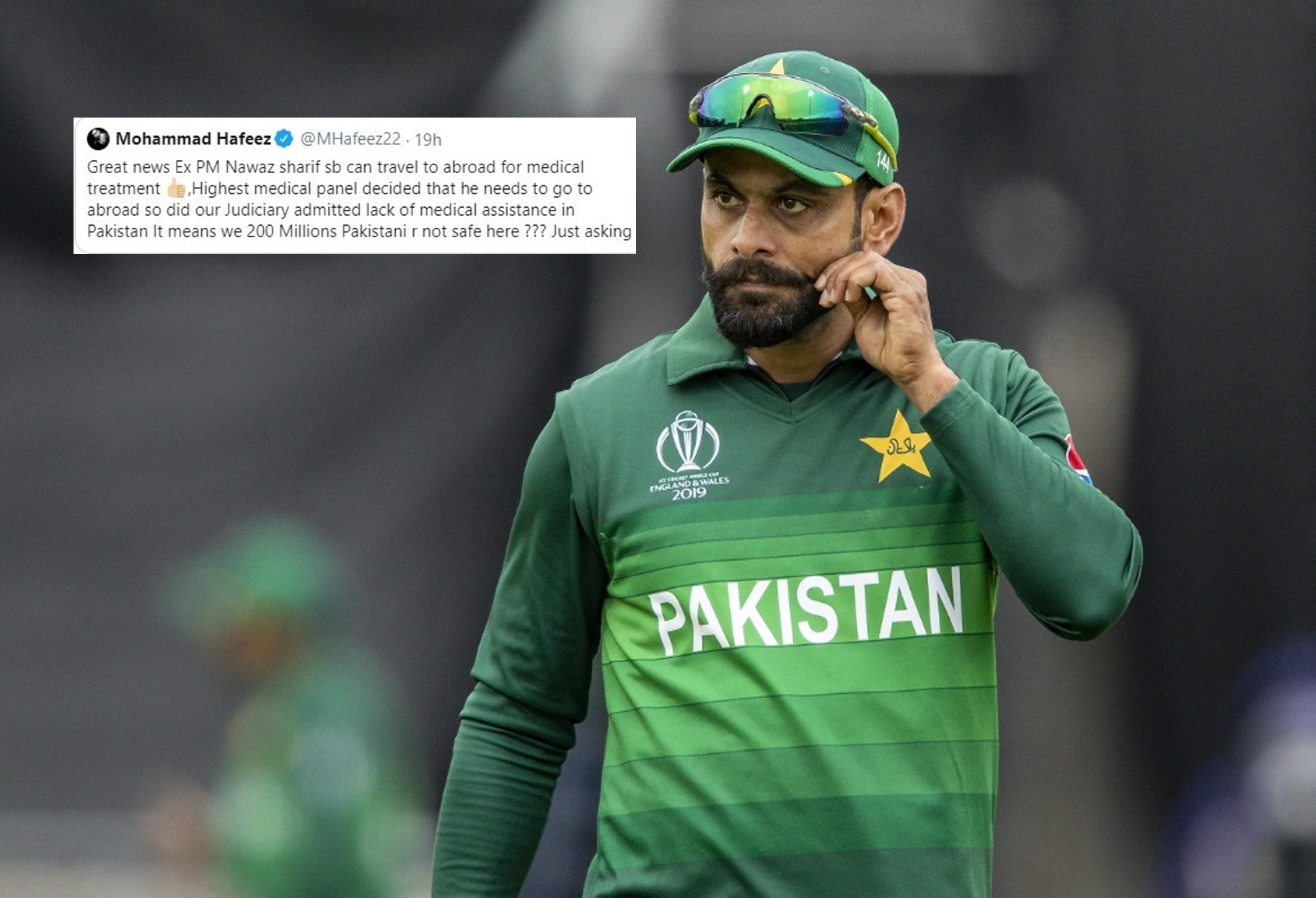 For the last ten days or so Pakistani Twitter has been a battle field of sorts for PML-N and PTI supporters. Although there is nothing new about proponents of these political parties having online clashes, their excuse for being at loggerheads with each other this time springs from former Prime Minister Nawaz Sharif's health woes.
All sorts of conspiracy theories are doing rounds with each side trying its best to defend the standpoint of the party that s/he supports.
Read: Mufti Kifayatullah Known For Claiming 'Wiki' From WikiLeaks & Jemima Are Cousins Is Trending & It's hilarious!
The latest Pakistani to jump this extremely toxic bandwagon is cricketer, Muhammad Hafeez whose tweet about Mian Muhammad Nawaz Sharif has invited the ire of PML-N supporters.
Taking to Twitter on Saturday evening, the cricketer wrote 👇
The sarcastic tone of the tweet did not go down well with Sharif loyalists who were quick to attack Hafeez from all directions.
PML-N leader, Hina Pervez Butt was among the first ones to lash out at Hafeez for his tweet.
Soon after, many retorted by pointing out that Muhammad Hafeez too, had gotten his thumb operated from abroad on PCB's expense!
Then there were those who pulled out an old video of Muhammad Hafeez in which he was wishing Nawaz Sharif good health when the latter was still in power…yes…the internet never forgets!
There were accusations of political ambitions!
Read: Kartarpur Corridor: Pakistanis Have A Field Day Cracking Sunny Deol Jokes
But not everyone is upset with Muhammad Hafeez for criticizing Nawaz Sharif. There are of course thankful PTI voters who have sprung to his defense!
This guy clapped back at those criticizing Hafeez for getting his thumb operated in the UK.
PML-N supporters were also reminded that Mian Nawaz Sharif, unlike Muhammad Hafeez is a convict.
What's your take on this story? Share your views in the comments below!