The people of Pakistan's Northern Areas are famous for their hospitality and their huge hearts. Both local and international tourists who visit the country's breath-taking north often return thoroughly impressed by its helpful population.
Living up to this age-old tradition of hospitality, the owner and staff of Moon Restaurant in Naran provided refuge to over 500 tourists who were stranded in the area owing to flash floods and landsliding.
Paying homage to the wonderful administration of Moon Restaurant, a neitizen, Filza Kiani took to social media to share that she along with scores of other tourists – mostly families – were stranded in Naran for more than 18 hours as floods and landsliding had left the roads entirely blocked.
Taking stalk of the difficult situation that the tourists were in the locals offered help to the families that had little children accompanying them. This included quilts and warm clothing to keep the kids insulated.
Read: This 20 Minutes FUROR Travelogue Covering Northern Areas of Pakistan will Hit you Right in the Feels!
The most heartening aspect however, was the graciousness of the owner and staff of Moon Restaurant. Not only did they offer their premises – free of cost – to the hapless tourists but also served them warm halwa and tea through the night.
The staff also stayed up all night serving the guests and cleaning after them.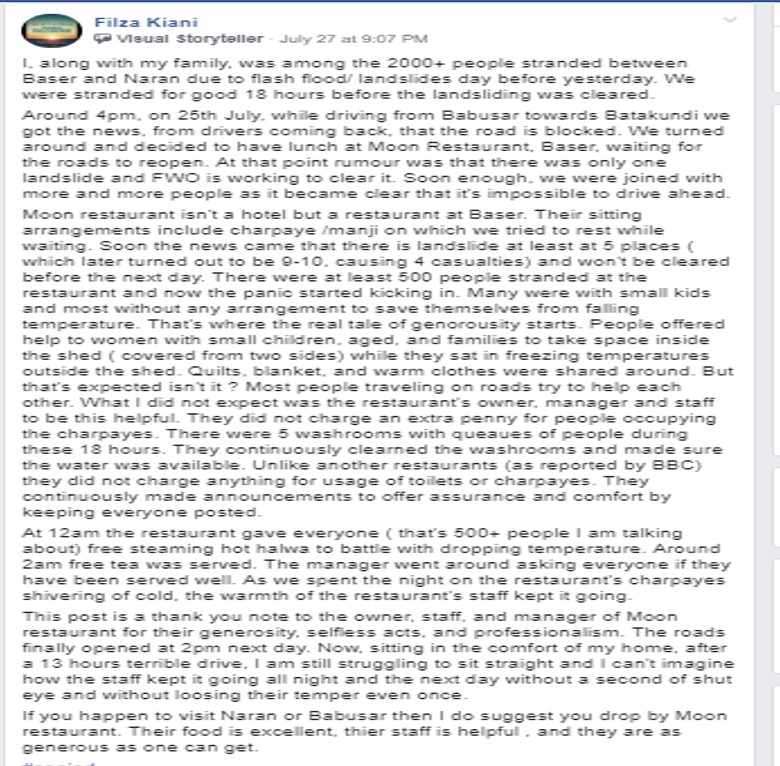 Read: This Desi Guy Rolling In Snow & Enjoying Winter Abroad Will Surely Make Your Day!
" The manager went around asking everyone if they have been served well. As we spent the night on the restaurant's charpayes shivering of cold, the warmth of the restaurant's staff kept it going," wrote Fizla in the thank you note that she posted on Facebook.
Read: Ashton Kutcher Gave A Shout Out To Irfanullah, The Heroic Polio Worker From Swat!