Indian media is notorious for practicing bad journalism and spreading propaganda against Pakistan because they fail to fact-check every damn time. As a result of their journalists' lack of ability to do their work right, someone falls prey to their misdeeds every now and then. So, this time around it is Meesha Shafi, who is battling the propaganda that was stirred up by Indian news agencies.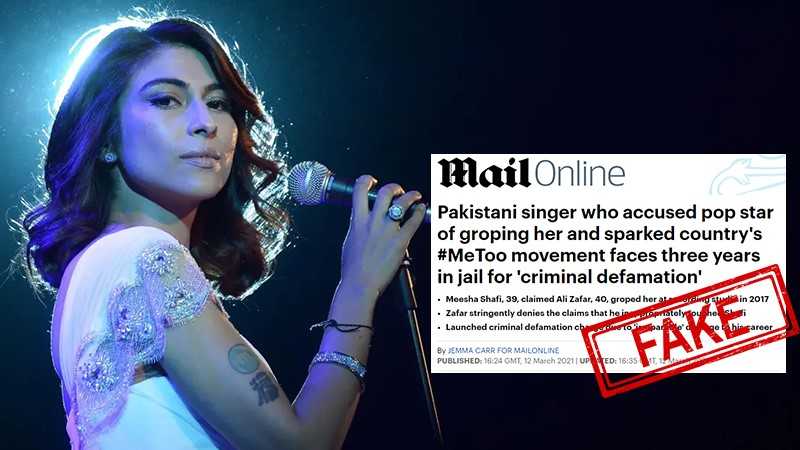 Also Read: After Meesha Shafi, More Women Share Stories Of Sexual Harassment By Ali Zafar
A few days ago, some Indian publications claimed that Pakistani pop singer, Meesha Shafi who has been battling a sexual harassment case against Popstar, Ali Zafar in Pakistan's courts, for quite some time, has been given a three-year jail sentence. Meesha Shafi, however, refuted the propaganda and called the agencies out for spreading fake news against her.
Also Read: #MeToo: Everything You Need To Know About The Latest Development In Ali Zafar – Meesha Shafi Court Case!
After the false information went haywire, Shafi took to the microblogging site, Twitter, to explain in a series of tweets what she does on the many days when propaganda against her runs rife.
What do you think I do on the many days like this? Many people ask me how I deal with all the propaganda, abuse and false information.

So today I'm going to log my day (in real time) on here as a thread 🧵 👇🏼

— MEESHA SHAFI (@itsmeeshashafi) March 15, 2021
The Balori singer shared details of how coffee (which she had quit altogether), her family, and meditation come to her rescue on days the (Meesha Shafi-Ali Zafar) ordeal is too much to handle.
10:35 am
Made myself a black coffee. I quit coffee altogether around 1.5 years ago started beginning my day with celery juice. But on days like this, when I'm being juiced myself, coffee helps. Thank you coffee 🙏🏼

— MEESHA SHAFI (@itsmeeshashafi) March 15, 2021
She thanked them all one by one for being there for her in the darkest of times.
10:45 am
Thinking of calling my mama. My rock. She is a single mother and also in the public eye as you might know. I feel a terrible sense of burden for the toll all of this must take on her. A big reason why victims don't usually speak up. Thank you mama ♥️

— MEESHA SHAFI (@itsmeeshashafi) March 15, 2021
10:55
My husband walked into the room, gave me a pep talk only a true feminist ally would. 'I want you to remember that what they're doing once again reeks of desperation and fear. Don't let it shake you, I know it's easier said than done.' This makes me cry. Thank you M ♥️

— MEESHA SHAFI (@itsmeeshashafi) March 15, 2021
The 39-year-old expressed how in the midst of all the controversy and online abuse; being strong for her children has helped her come out of the "dark recesses of suicidal depression."
12:11 am
Making chicken yakhni pulao today. As a mother of 2 🐣🐣 children, being strong for them has really kept me going. Got me out of the dark recesses of suicidal depression over the past 3 years. They will not lose their mother over this toxicity. Thank you my babies ♥️

— MEESHA SHAFI (@itsmeeshashafi) March 15, 2021
She furthered how getting to cook for her children, spending time with them outdoors, and playing dodgeball proves to be a sense of comfort when the world's closing in on her.
Meesha's lawyer, Asad Jamal also slammed the Indian news outlets for spreading rumors about her case. He tweeted that claims of the verdict being out on her case are completely wrong. Jamal further wrote that Shafi hasn't been sentenced to imprisonment.
This is with ref to the fake news claiming that my client Meesha Shafi has been sentenced to 3 yrs imprisonment.
No such verdict has been passed by trial court in the frivolous criminal defamation case instituted by Ali Zafar against several women.
Read complete statement below pic.twitter.com/49vRSXtvFe

— Asad Jamal (@LegalPolitical) March 15, 2021
What do you think of the propaganda being spread against Meesha Shafi? Let us know in the comments.