Pakistani celebrities, Meesha Shafi and Aagha Ali took to their official social media platforms to speak about normalizing light material clothing for school children, security guards, and traffic wardens amid an ongoing heatwave.
Read: A Man Got Picked Up By The Police In Lahore & Their Reason Of Arrest Will Shock You!
In the past few days, temperature in different cities of Pakistan has been soaring. This resulted in school kids fainting during their school hours and bleeding out of their noses amid a power outage. Many media broadcasters ran stories around this issue to highlight their plight.
Read: No, Iman Ali, It's NOT Okay To Use "Khusra" As An Insult
Not only school children but daily wagers, lower-tier working-class people, who have had to wear polyester uniforms for eight hours straight in this heatwave, have also ended up in dire states.
Complaining about the uniforms can result in scores of people losing their jobs, which of course, isn't a risk worth taking. So, celebrities have taken it upon themselves to be the voice of the vulnerable.
Trying to play her part in raising awareness around the cause, singer Meesha Shafi took to Twitter to ask authorities to normalize wearing cotton clothes in this boiling weather.
Making a similar point, Aagha Ali took to his Instagram stories to ask the government to close the schools for a week at least and make it easy for students. He pointed out that even he had to postpone his shooting due to the rising temperature, so what it must be like for those poor students who are attending regular classes.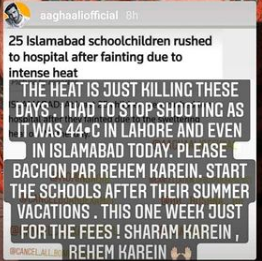 In view of the heatwave, Federal Government has revised the school timings from 7 am to 11 am, after 25 students fainted during a power outage.
Do you support Meesha Shafi and Aagha Ali on their clothing stance for school children amid heatwave? Let us know in the comments.