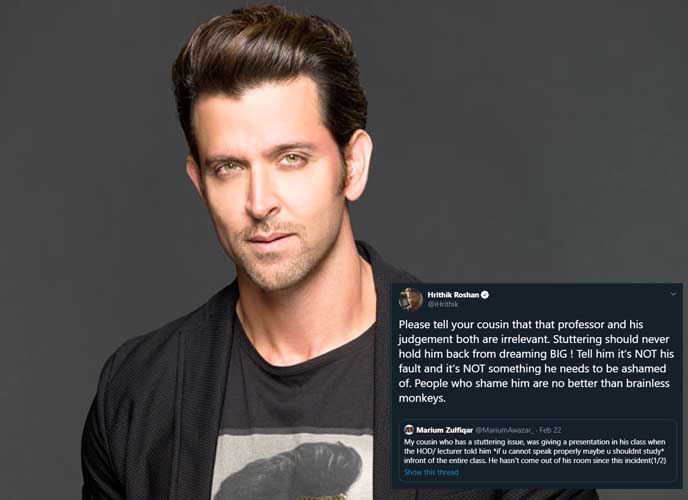 A netizen, Marium Zulfiqar had sent out a tweet a couple of days ago detailing how her cousin had been bullied by his own teacher for having a stutter.
The callousness of the HOD's words had detained the boy shattering his confidence to go back to his university.
When the boy finally went to the HOD of NUML university BBA department, he told him that he said that because it was in his best interest to quit his studies.
A teacher who is supposed to stand up for his students just shut him out because of an "inborn disability" and it remains incomprehensible that how can someone be this insensitive.
Read: Iman Ali Shares Her Struggle With Multiple Sclerosis & You Need To Read This
Bollywood star, Hrithik Roshan, who has always been open about his struggle with speech impediment during childhood retweeted Marium airing support for her cousin.
Hrithik Roshan called out the teacher who had shut down this Pakistani boy because of his disability.
Please tell your cousin that that professor and his judgement both are irrelevant. Stuttering should never hold him back from dreaming BIG! Tell him it's NOT his fault and it's NOT something he needs to be ashamed of. People who shame him are no better than brainless monkeys.
The Koi Mil Gaya star has never been shy about his own struggle with stammering and said that he used to practice for hours in order to overcome it.
In an interview with Mumbai Mirror Hrithik had opened up about his speech issue and said that:
I'd practise every day to overcome the speech issue, I still do for an hour at least so that I can control the secondary actions like twitching and all. The unacceptability to stammering was not only bothersome in my childhood but prevailed till 2012, long after I had become a film star."
Let's hope that the university administration takes timely action of the incident making sure that it never happens again to anyone.
What are your thoughts on Hrithik Roshan standing up for a Pakistani boy? Share in the comments below!